Daily Market Brief – 30 March 2016
Yellen's speech calms USD bulls
Quote of the day: "Go the extra mile, it's less crowded there!"
March 22nd: Highlights
CPI inflation data from Germany
US ADP Employment Change data
US Crude Oil Inventories
She claimed that they should be cautious when hiking rates, expressing concern about low inflation, and suggesting it is still too early to tell if the increases seen in core inflation have legs – it may just be a short-term blip. Highlighting the headwinds (slowdown abroad and a stronger USD) that have the potential to slow the US recovery sent the USD lower across the board, benefitting most USD counterparts – Cable is back up over 1.44.
Yesterday, US Consumer Confidence posted 96.2, better than forecast, showing that confidence in the service sector remains strong.
Today, we have confidence data from the Eurozone, which is expected to be weaker, reflecting the ongoing slowdown. And further to digestion and discussion of Yellen's speech, we have two major releases from the US – ADP Employment Change (pre-cursor to the Non-Farm Payrolls on Friday) and the Crude Oil Inventories, forecast to drop 7m to 2.4M barrels.
Morning mid-market rates – The majors
85% savings. Job Done. So, what is the secret sauce of the CurrencyTransfer.com marketplace?

CNBC described us as 'disrupting global money transfer'. Finally, you kiss goodbye to hidden fees.
How are we innovating?
Well, we are not an expensive bank costing you up to £1,500 on every £50,000 trade. Neither do you ever need to ring around multiple brokers and speak to sales guys. Pretty inaccurate way of shopping around. We help you maximise the value of each transfer. Quite simply, you are in control. Foreign exchange companies compete in a LIVE marketplace to win your business.
You win!
Got a question? We'd be delighted to help!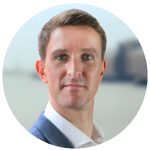 Paul Plewman
Director of Sales & Operations
t: +44 (0) 20 7096 1036
e: paul@currencytransfer.com