EUR Monthly Review June 2018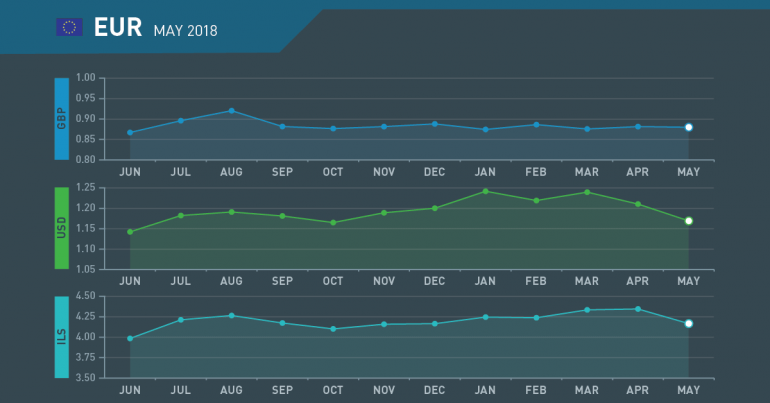 EUR Monthly Review June 2018
May in review
Political issues hit Euro
Euro fall continues
Italian Prime Minister elect refuses mandate
Spanish PM out on vote of confidence
Slowing economy adds further pressure
Euro tumbles to new 2018 low
The single currency has been hit by a Tsunami of bad news, but the ECB is content for it to fall as inflation is benign, growth is reasonable (but starting to weaken) and the fall allows weaker economies to export more. Such benign neglect can only go on so long and alarm bells are probably ringing at the Bundesbank
Italy heading for constitutional crisis
Italy looks to have avoided a return to the polls. The President has reached compromise on a Finance and Economy Minister. Since a radical change in direction was what the electorate voted for, a new election could have strengthened the coalition's anti-­establishment position – something the President was keen to avoid.
Rajoy under pressure
Spanish Prime Minster Mariano Rajoy has been ousted from his seat. Spain has withstood the debt crisis, a constitutional crisis over Catalonia and is growing at close to 3%, yet Rajoy was unable to unite the country. The Euro is popular in Spain, so serious consequence outside Iberia are unlikely.
Slowing economy bringing concerns
Despite global growth starting to pick up, the Eurozone economy, which has defied gravity, is starting to show signs of a slowdown. Eurozone activity indexes are showing signs of weakness and GDP is levelling off. Weaker nations are still seeing a period of growth, but the stronger ones are beginning to slow.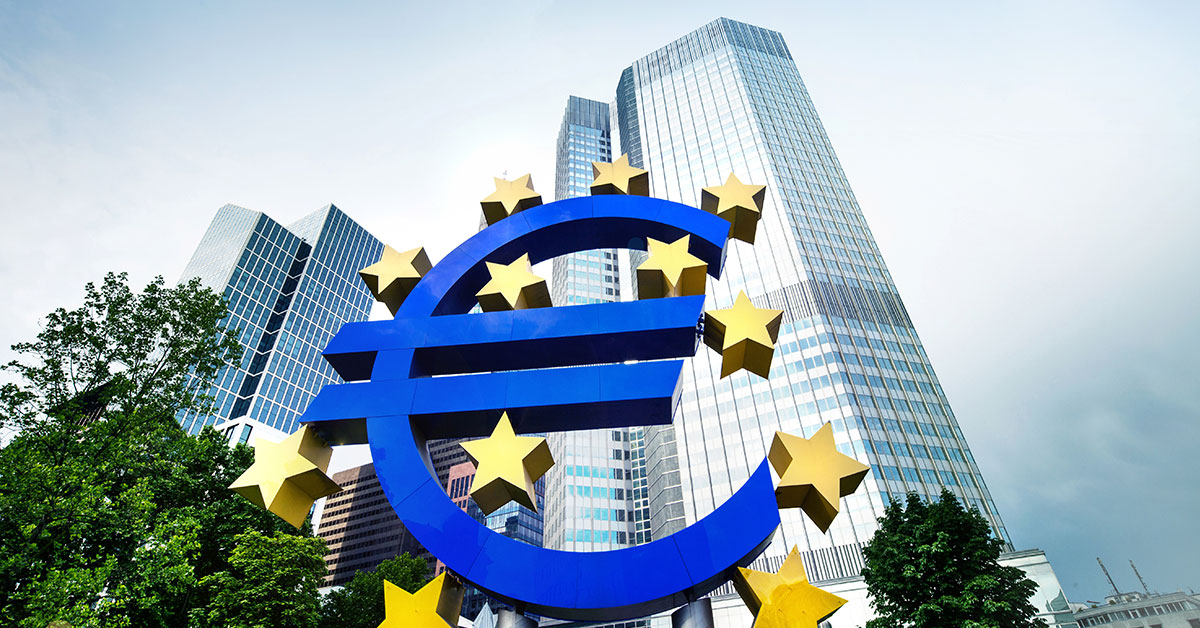 June what to watch
ECB under Pressure to act
ECB to finally have to act?
Political dramas set to continue
Debt overhang still an issue
Migration season to bring Brussels into conflict
ECB to extend accommodation?
The extended period of accommodation and low rates, which have been a feature of ECB policy, are to be tested as the economy slows down. Most likely, the first step will be an extension to the current Asset Purchase Scheme, followed by an increase in its size if the situation worsens.
Political drama just beginning
It is odd, but the euro is popular in Italy, it is just the Eurozone that isn't! So, the new Government wants to keep the common currency but take greater control. This is not likely to sit well in Brussels or Frankfurt. The standoff between the President and coalition is likely to run a while longer.
Debt issue will have to be faced
The incredible level of Eurozone debt is going to have to be dealt with sooner rather than later as it will start to impact bank lending and add to growth concerns. While most of debt (45%) is held in by French and German lenders, it is smaller nations like Greece and Cyprus that face the biggest concerns as bad debt levels reach close to 50%.
Migration season set to add to internal conflict
Part of the manifesto of the Italian Coalition Government is to repatriate 500k migrants that Brussels continues to call refugees. This problem will become a major issue again as the weather improves and more boats leave for Europe. Brussels wants the "eastern States" to take more but they are flatly refusing.
01
Friday
G7 Meeting
German PMI Manufacturing
Eurozone PMI Manufacturing
Italian GDP
05
Tuesday
German PMI Services
Eurozone PMI Services
12
Tuesday
German ZEW Economic Sentiment
13
Wednesday
Eurogroup Meeting
Industrial Production
14
Thursday
ECB Rate Decision
ECB Press Conference
22
Friday
German PMI Services
Eurozone PMI Services
German PMI Manufacturing
Eurozone PMI Manufacturing
28
Thursday
European Council Meeting
German Gfk Consumer Confidence
29
Friday
European Council Meeting
German Retail Sales
German Unemployment Rate