USD Monthly Review September 2018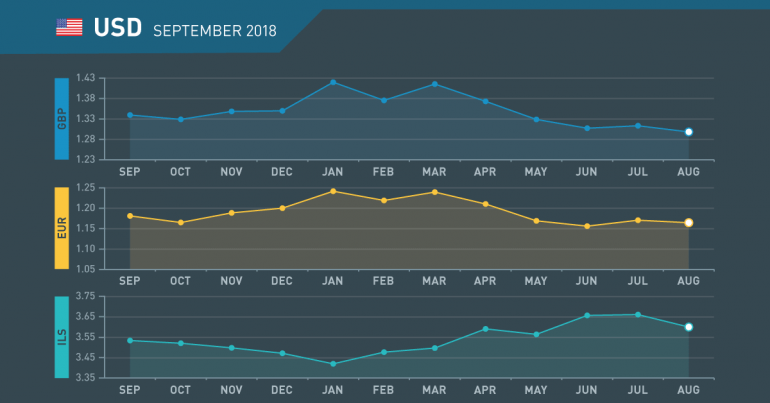 USD Monthly Review September 2018
August in review
Trump not thrilled with Fed
Trump criticises rate hikes
Powell confirms switch to reactive hikes
Trade deficit widens
Wages and jobs growth slowing
Tighter monetary policy upsets President
President Trump pronounced himself "less than thrilled" with recent monetary policy decisions by the FOMC despite being instigator of the policies that required the Fed to hike.
Powell turns reactive
In Jackson Hole, Fed Chairman announced that the time has come for a more reactive Fed. This was what was expected of him when he was elected and should lead to more transparency.
Trade back in focus
The U.S trade deficit grew by 6.3% MoM in July, raising the possibility of further tariffs on U.S. imports.
Economic positives fading
The "goldilocks" scenario which led to 4.2% growth in Q2 is fading with growth likely to be nearer 3% in Q3 with the outcome that the dollar may correct further.

September what to watch
Another hike?
FOMC may hike again
Trade war to return?
Trump to face calls for impeachment
Dollar correction to continue
Another hike in late September?
Despite Trump not "feeling it" the FOMC looks likely to hike rates again at its late September meeting, prior to an expected fall in growth that will keep rates on hold for a while thereafter.
No progress in talks may mean more tariffs
Trade talks between China and the U.S. yielded no progress so a further round of futile tariffs is likely, leading to tit-for-tat measures from Beijing.
Trump facing calls for impeachment
Following guilty verdicts against two of his former allies, President Trump faces further investigation possibly leading to his impeachment.
Dollar facing lack of positivity
Despite various drivers for the dollar, which led the dollar index to a high of 96.99, the positivity is fading and creating a correction which may lead to a downturn for the greenback.
September 2018 : Key Events
06
Thursday
ADP Employment Change
Crude Oil Inventories
Unemployment Claims
07
Friday
Average Hourly Earnings m/m
Non-Farm Payrolls
Unemployment Rate
14
Friday
Retail Sales m/m
Industrial Production
17
Monday
Empire State Manufacturing
19
Wednesday
Building Permits
Housing Starts
20
Thursday
Phily Fed Manufacturing Index
Existing Home Sales
28
Friday
Personal Spending m/m
Chicago PMI