EUR Monthly Review September 2018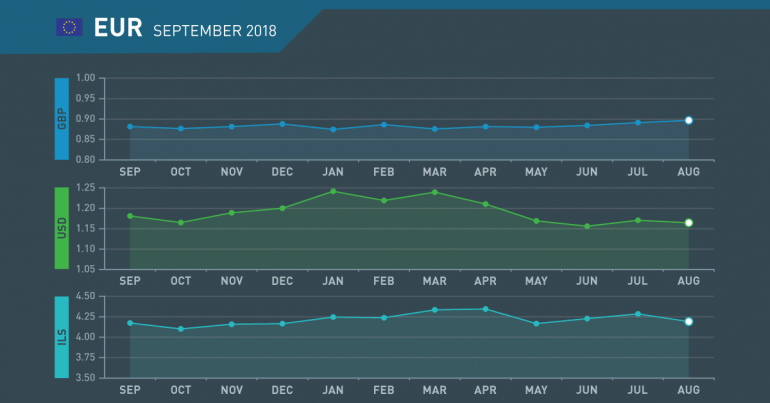 EUR Monthly Review September 2018
August in review
A sleepy, reactive month
Rise against GBP bringing concern
Macron popularity falling
Economic activity indexes falling
Italian bridge disaster led to Government u-turn
Exporters concerned over Euro rally vs. pound
Eurozone exporters are expressing concern over the rise of the Euro against Sterling as it is seen giving a boost to UK firms.
"King" Emmanuel lurches right
French President Emmanuel Macron is being accused of acting like "a king" as he enacts policies that favour the rich and big business, which is contrary to his centrist manifesto.
Economic activity levels slowing
The levels of economic activity in the Eurozone as predicted by Purchasing Managers Indexes are slowing, which could lead the ECB to delay the removal of support.
Italian Gov't must fund infrastructure not welfare
The new Italian Government had abandoned plans for infrastructure development prior to the Genoa bridge disaster. Now they must revise policy to react to public safety concerns.

September what to watch
Italy ease of restrictions
Italy desperate to increase debt ceiling
Weidmann's star is fading
Turkish issues yet to be resolved
Delay in end to QE a possibility
Italy on collision course with Brussels
Italy wants to raise its debt to GDP ratio, which is currently more than 130% to deal with "Genoa" and make good on its welfare reform plans. This is unlikely to be seen positively in Brussels or Frankfurt and could lead to a major dispute, which if taken to its logical conclusion could see Italy depart the Euro citing its own population over the EU.
Merkel unlikely to back Weidmann for ECB
Angela Merkel wants a German as EU Council head. She is therefore unlikely to jeopardise that by promoting the candidacy of Bundesbank President Jens Weidmann for ECB head. In what would then be an open race the Irish Central Bank Governor is seen as a sensible compromise candidate.
Eurozone bank's exposure to Turkey a concern
The spectre of contagion returned with concerns over Eurozone bank exposure to Turkey. Fresh regulation is needed from the ECB that regulates total exposure across the entire region.
Slowdown could lead to QE removal delay
The scheduled removal of the Asset Purchase Scheme could be delayed or cancelled entirely if a slowdown in the Eurozone looks likely. ECB President Mario Draghi has already intimated he would be in favour of such a move if economic activity slows substantially.
18
Tuesday
Ger ZEW Economic Sentiment
24
Monday
French Services PMI
German Manufacturing PMI
German Services PMI
Services PMI
Manufacturing PMI