GBP Monthly Review September 2018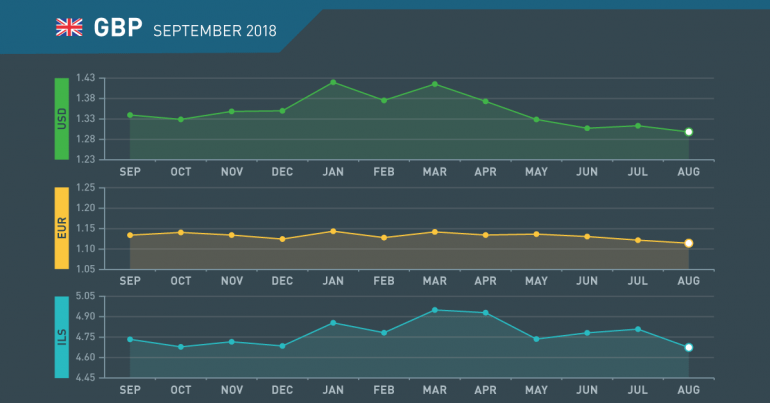 GBP Monthly Review September 2018
August in review
Hard Brexit becoming a reality?
Hammond comments refuted by May
Sterling falls against Euro
Inflation rises for first time this year
No deal Brexit fears grow
Hammond voices no deal Brexit concern
Chancellor Philip Hammond voiced fears GDP could fall by 10% in the event of a no deal Brexit. Theresa May later commented that a no deal Brexit "wouldn't be the end of the world", sending Sterling lower.
Sterling falling steadily versus Euro
Sterling lost ground steadily versus the single currency in August. Making a low of 1.0990, its lowest level in nearly a year. A sustained break of 1.10 leads many to fear a drop to parity.
Rise inflation confirms rate hike
Following the hike in rates by the BoE, inflation data showed that prices rose for the first time in a year. This, to a certain extent, justified the hike in rates.
Dire consequences of no deal Brexit growing
Following comments by Trade Minister, Liam Fox, and BoE Governor, Mark Carney, fears of a no deal Brexit are mounting as neither side displays any urgency.

September what to watch
May in Trouble
Return of Parliament to lead to volatility
Sterling set to test 1.25/1.08
Johnson to launch challenge
Brexit talks to reach crucial point
Parliament's return to open Brexit wounds
The relative peace from Government infighting and political squabbling is set to end as Parliament returns from its summer recess on September 4th.
Sterling likely to fall as Brexit concerns weigh
Sterling's relatively steady summer is likely to end as it comes under pressure from Brexit and faltering economic conditions.
May to face leadership challenge?
Ex-Foreign Secretary, Boris Johnson's summer may have been spent plotting the downfall of his erstwhile boss and a leadership challenge may be forthcoming.
Brexit talks resume
Brexit talks resume in Brussels with the EU likely to "gently" reject Theresa May's Chequers proposals. Despite being encouraged to continue to seek a solution this may be the catalyst for a hardening of the UK's attitude.
September 2018 : Key Events
10
Monday
GDP m/m
Manufacturing Production m/m
Industrial Production m/m
12
Wednesday
Average Earnings
Claimant Count Change
Unemployment Rate
13
Thursday
MPC Meeting & Rate decision
18
Tuesday
CPI y/y
PPI Input m/m
RPI y/y
PPI Output m/m
21
Friday
Public Sector Net Borrowing