GBP Monthly Review April 2018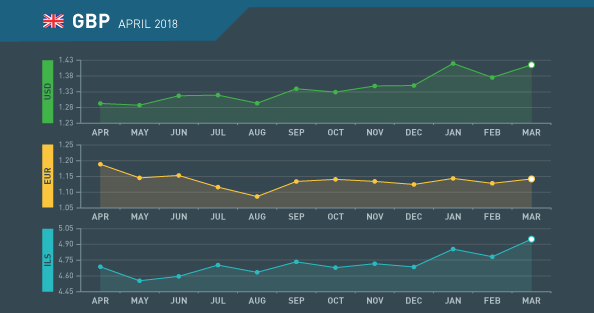 GBP Monthly Review April 2018
March in review
Brexit Transition Deal Boost
Further concessions lead to deal
MPC cool on hike in May at latest meeting
Inflation falls below incomes
Corbyn fails to join Russia criticism
Brexit transition to end on 31/12/2020
Despite Theresa May wanting a longer transition period, the UK accepted the terms offered by Brussels and the transition period will last just 21 months. Sterling rallied to a high of 1.4346 against the Dollar, but has since begun to correct.
MPC fails to provide rate hike guidance
TThe latest meeting of the MPC saw two members vote for an immediate hike and another call for the committee to be more forward thinking concerning the normalisation of interest rates calling for two hikes a year. The market still sees a 62% chance of a May hike down from 70% in February.
Inflation below incomes
Wages including bonuses rallied strongly in February finally outstripping inflation as cheaper food and petrol brought CPI down. The effect of the Brexit collapse in Sterling has finally "washed through" and the effect of a rallying pound has also brought inflation down.
Corbyn fails to condemn Russia
Jeremy Corbyn, the leader of the opposition, may have dealt his party's chances of winning the next election a fatal blow as he failed to condemn Russia for it's alleged use of a nerve agent against a former agent on UK soil. Corbyn was content to say that "the jury is still out" on who was responsible.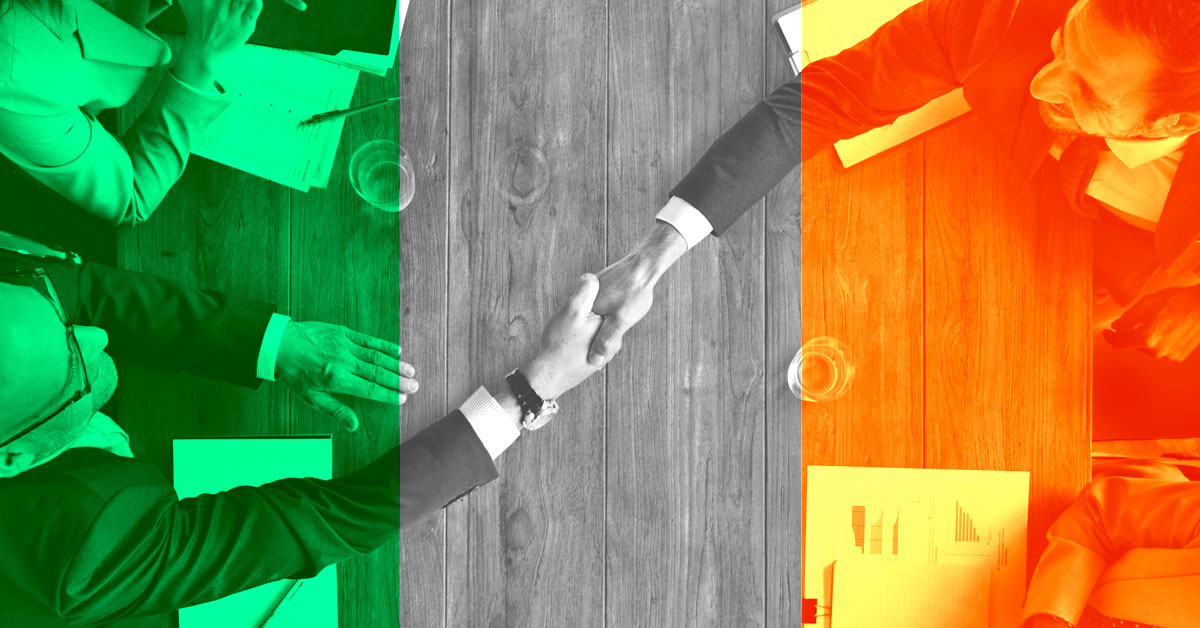 April what to watch
Data & Brexit To set Sterling tone
Irish question set for further revelations
Further fall in inflation will drive Sterling lower
Q2 to start with sterling at the top of its range
Brexit trade talks set to start
Did May agree a deal on the border?
It has been rumoured that Theresa May, the Prime Minister agreed a deal over the Irish border issue as part of the transition negotiations. If that is negative, as it most likely will be, for the North, there could be major fallout.
Inflation data taking on more importance
As inflation rose virtually unchecked and the MPC were willing to place the blame firmly on Sterling weakness, they are going to have to adjust as it starts to fall. Any talk of rate hikes should be wholly dependent on consumer price inflation in the short term as it will take a while for wage inflation to feed through.
Sterling facing differing challenges
The pound was the market's "flavour of the month" in March but is unlikely to get such a smooth ride as the issues start to conflict with each other. A rise in the possibility of a rate hike to a probability will be positive. However, if inflation continues to fall, the MPC will be hard pressed to spin a hike. Brexit talks tend to be supportive in their early stages, so it is doubtful that Sterling will move far form a 1.3820/1.4250 range.
Brexit trade talks to commence
Following the capitulation seen in stage one of Brexit and similar actions for the UK Government to ensure a transition was agreed, it seems likely that the trade deal will follow similar lines. As the talks dissolve into "committee stages" it is usual that optimism grows so Sterling may receive a boost from "radio silence."
03
Tuesday
Construction PMI
BRC Shop Price Index y/y
06
Friday
Housing Equity Withdrawal q/q
09
Monday
Halifax HPI m/m
BRC Retail Sales Monitor y/y
11
Wednesday
Manufacturing Production m/m
Goods Trade Balance
Construction Output m/m
Industrial Production m/m
10-y Bond Auction
12
Thursday
BOE Credit Conditions Survey
17
Tuesday
CPI y/y
PPI Input m/m
RPI y/y
Core CPI y/y
HPI y/y
PPI Output m/m
18
Wednesday
Average Earnings Index 3m/y
Claimant Count Change
Unemployment Rate
23
Monday
CBI Industrial Order Expectations
24
Tuesday
Public Sector Net Borrowing
26
Thursday
CBI Realized Sales
GfK Consumer Confidence
27
Friday
Nationwide HPI m/m
Prelim GDP q/q
High Street Lending
Index of Services 3m/3m