GBP Monthly Review March 2018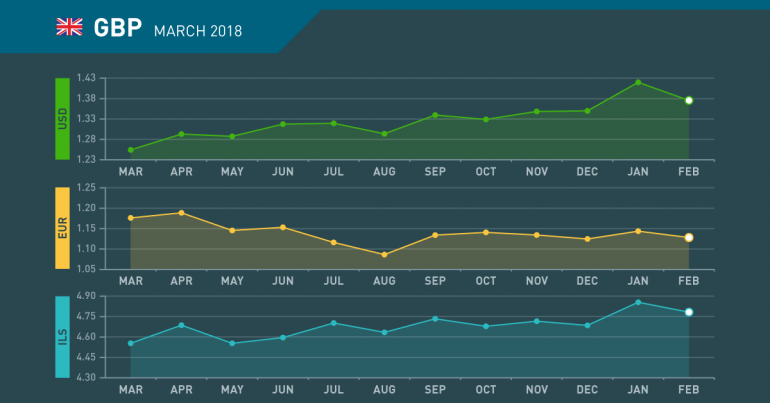 GBP Monthly Review March 2018
February in review
Bank of England Turns Hawkish
Inflation returns to 3%
MPC ignores Brexit concerns
Labour favours customs union
Sterling in narrow range
Inflation demands MPC attention
The Bank of England turned more hawkish on inflation as the rate rose back above 3%. More practical action will be necessary to drive it back to towards the Government's 2% target. A May hike is priced in.
MPC out of Brexit loop
The most recent MPC meeting has decided that Brexit is out of its remit and monetary policy will be determined according to inflation considerations. Latest GDP data shows growth falling to 0.5% YoY.
Labour to continue Customs Union
Any future Labour Government in the UK would negotiate membership of a customs union which would provide tariff free movement of goods. The cost of that policy in both economic and independence terms has not yet been discussed.
Pound narrow range. Medium term target reached
The medium-term target for the pound at 1.4250 has been reached and the pound has retraced below 1.4000. A period of consolidation will be favoured by the BoE as they try to tackle the rise in inflation.

March what to watch
Brexit to determine direction
EU to release Brexit terms
Transition to be closed ended
Irish Border to bring political concern
Sterling to react to BoE rate comments
EU Brexit terms to bring reality check
Normal service will be resumed as Brussels gets tough over the cherry picking of the single market and customs union. Financial Services will be excluded from any deal as Frankfurt and Paris try to take precedence.
No open-ended transition
The UK's hopes for an open-ended transition period will be dashed by Brussels as they expect Brexit to be completed by December 2020.
Irish border issue to continue
The border between Ireland and Northern Ireland has the potential to wreck the Government's Brexit plans as they will not be able to negotiate away the North's rights given the hold they have in Parliament.
BoE Inflation concerns to drive rate talk
The Bank of England will continue its Hawkish tone as inflation refuses to fall and negative wage growth continues. The market will continue to price in a hike in May but will expect further increases if inflation fails to behave.
01
Thursday
Manufacturing PMI
Net Lending to Individuals m/m
02
Friday
Prime Minister May Speaks
Construction PMI
BOE Gov Carney Speaks
07
Wednesday
Halifax HPI m/m
Annual Budget Release
09
Friday
Manufacturing Production m/m
Goods Trade Balance
21
Wednesday
Average Earnings Index 3m/y
Claimant Count Change
Public Sector Net Borrowing
Unemployment Rate
22
Thursday
Retail Sales m/m
MPC Official Bank Rate Votes
Monetary Policy Summary
Official Bank Rate
Asset Purchase Facility
MPC Asset Purchase Facility Votes
29
Thursday
Current Account
Final GDP q/q
Net Lending to Individuals m/m