5 Great Holiday homes destinations in Italy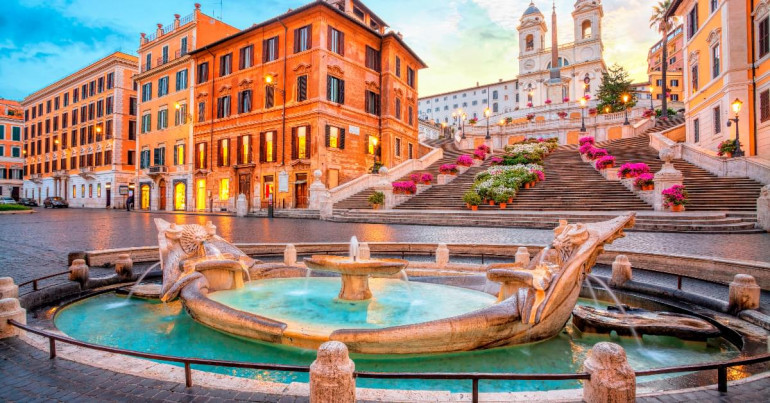 Italy is a popular destination for individuals who are looking for a holiday home abroad. There's a huge variety of properties to choose from when looking for a holiday home in Italy. You'll always be able to find something that suits your personal situation and budget. 
Within this article we will be looking at several great holiday home destinations in Italy and what you should consider before making a property purchase. 
What to consider when purchasing a holiday home in Italy
Financial budget 
Financial budget is something which needs to be considered initially prior to making the property purchase. Depending on your allocated finances, this will have an impact on the potential location of your Italian holiday home. Nonetheless, there are holiday homes for various types of budgets in Italy. Houses outside of the cities tend to be cheaper and also provide greater natural scenery. 
A 2 bedroom apartment in central Rome will start at roughly €250,000 while in Sardinia you can buy one for as little as €120,000. City apartments are always easy to rent on either a long or short-term basis, which could be a good source of income if you see your holiday home as an investment. 
Preferred type of property
An important choice when purchasing a holiday home abroad is the type of property you choose to buy. One of the biggest draws to Italy is the country's impressive architecture and natural beauty. 
As a result, there is an array of property types which you can choose from. These include villas, apartments, courtyards, farmhouses and mountain chalets. Depending on the location of the property, specific types of houses will be more common and readily available. 
The landscape of Italy is very diverse. The Alps and the dolomites in the north have snow-covered peaks and icy glaciers. 
Down through the centre of Italy there are mountains dotted alongside hilltop villages. A short drive away you are in the flat plains that run along the coast. Within a single region of Italy you can often find plains, hills, mountains and a beautiful coastline.
Our 5 top locations to buy a holiday home in Italy

1. Rome
Rome is one of the most popular cities in Europe and has a great deal of history. The city centre has baroque and renaissance buildings which have been converted into luxury apartments and penthouses. Some of the most sought-after properties have views over the Piazza Navona, the Pantheon and the Trevi Fountain. 
Other exclusive villas and hotels can be found for sale on the outskirts of the city.
The centre of Rome is usually busy with tourists exploring the city. Nonetheless, there is still the opportunity to enjoy walking down quieter side streets. These smaller streets provide the opportunity to relax outside a café, walk along the banks of the river Tiber and cycle or walk through Rome's most famous park, Villa Borghese. It is in these narrow back streets that you will find quiet apartments above small shops and restaurants.
Due to the city's vast history and tourist attractions, Rome is one of the most expensive places to purchase a home in Italy. 

2. Liguria
The Ligurian Riviera is very popular with tourists, and because of this, the whole region has a great deal of summer influx. Liguria, is a coastal region spanning from Tuscany to the French border. In Liguria you will find mild temperatures and a relaxed lifestyle.You can also expect great food and music festivals in most of the region's towns. Apartment waterfront properties in coastal towns are priced on average around €300,000, but the valleys behind present better value at between €150,000 and €200,000.
Approaching Liguria from the sea the villages look stunning. As a result, you can see why it is one of the most popular holiday destinations for people, particularly Portofino. 

3. Sardinia
The north coast of Sardinia is known for its uber-expensive holiday resorts, but the south has equally beautiful beaches and less expensive real estate. Additionally the South has a slower pace to it and features agricultural communities and old-fashioned towns. The island boasts a warm climate and clean beaches. Nonetheless, high property prices mean that it's not an option for every budget. Porto Cervo and Costa Smeralda are two of its most exclusive spots. 
The houses for sale in Sardinia often are at an affordable price point, which can vary depending on the location and type of housing. If you prefer a villa on the seaside, the places on the south coast of Sardinia usually offer the most affordable prices.

4. Amalfi
For a holiday home to rent out or visit during the summer months, purchasing a property in Amalfi is a good option. Due to the appeal of the Amalfi Coast and surrounding area, property prices tend to start from around €320,000 for luxury villas. For an investment property, the summer months have an increased footfall of visitors. This provides the opportunity to gain income via renting out the property. 

5. Sicily
Sicily's divided into nine main divisions, each with its own character. One of the most affordable places in Italy to buy property is Catania as well as Taormina which offers farmhouses, coastal homes and properties surrounded by olive groves and vineyards. The average property price per square metre in Sicily is €1,300, but prices vary across provinces.
Sicily is also the largest island in the Mediterranean and is itself surrounded by a handful of smaller islands and islets.
What are the legal requirements?
For the most part, the legal requirements for a property in Italy are pretty straight forward. It's strongly recommended to retain a translator unless you're  fluent in Italian. You'll also need to engage a notary, who will handle your contracts. Up-front fees on the purchase include a 1% deposit of the purchase price. The deposit is increased to 10-20% of the sale price. 
Once the preliminary contract is drawn up and signed, according to Italian property law, if you decide not to proceed with the purchase, it's likely you will lose this deposit. But if the seller backs out of the transaction, they will be liable to pay twice the deposit amount as compensation.
Additional costs to factor in when purchasing a holiday home in Italy
When buying a second home in Italy, it is important to be aware of potential additional costs and fees. The costs linked to the purchase of a second home in Italy consist of registration tax. This is usually at 9% if you purchase from a private individual or 10% if you buy from a building company. Mortgage tax is between 1-2% of the value of the property, and you would also be subject to cadastral tax (€50) and VAT. The notary fee and the property agent's commission must also be considered. 
When purchasing a holiday home in Italy as an international buyer, you must also pay IMU (municipal property tax), which works out to be 0.76% of its value, and TARI (waste tax, previously known as TARES, TARSU and TIA). 
How to pay for your second home in Italy
Exchange rate fluctuations can have a negative impact on the cost of your house mortgage in Italy. CurrencyTransfer can help you remove the uncertainty due to currency volatility and stay on top of your budget. By using a forward contract you can send international payments and safeguard your overseas property purchase.
This will allow you to secure today's exchange rate for up to 12 months in advance. Our dedicated relationship management team is always available to help. Feel free to contact us today with any questions you may have.