Daily Market Brief – 14 January 2016
Sterling stabilised ahead of BoE meeting
Quote of the day: "The expert in anything was once a beginner"
January 14th: Highlights
GBP stops the slide ahead of BoE meeting
USD poised to benefit further from policy divergence
Crude drops below $30 – first time in 12yrs.
US / Asian markets sell-off
In fairly quiet market conditions yesterday, Sterling stabilised slightly ahead of the BoE meeting today. Market consensus is for policy to remain unchanged (for interest rates or QE) but the BoE minutes could shed more light on the views regarding the recent slump in GBP, lack of reaction in domestic wages and the apparent slowdown in the UK recovery. If the balance of votes changes and we see a reversion to 9-0, then this could lead to another move lower for GBP as it will further underline the policy divergence with the US.
Considering your next transfer? Log in to compare live quotes today.
Global Comment
Sentiment took another knock yesterday as crude slipped below $30 per barrel for the first time in 12yrs. Wall Street and Asian markets have seen significant selling pressure and when we add in the terrorism in Jakarta, the markets may well be a little jittery today.
Eurozone industrial production missed forecasts, posting -0.7% (Vs. -0.2%), but this wasn't enough to push trade out of the current range, where it drifted for most of the day. Focus is now on the Eurozone meetings, but keep an eye on the sentiment for global stocks as this will likely play a role as the day develops.

Morning mid-market rates – The majors
85% savings. Job Done. So, what is the secret sauce of the CurrencyTransfer.com marketplace?
CNBC described us as 'disrupting global money transfer'. Finally, you kiss goodbye to hidden fees.
How are we innovating?
Well, we are not an expensive bank costing you up to £1,500 on every £50,000 trade. Neither do you ever need to ring around multiple brokers and speak to sales guys. Pretty inaccurate way of shopping around. We help you maximise the value of each transfer. Quite simply, you are in control. Foreign exchange companies compete in a LIVE marketplace to win your business.
You win!
Got a question? We'd be delighted to help!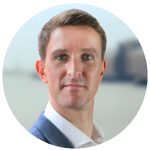 Paul Plewman
Director of Sales & Operations
t: +44 (0) 20 7096 1036
e: paul@currencytransfer.com