CurrencyTransfer Selected For Finovate & SXSW 2014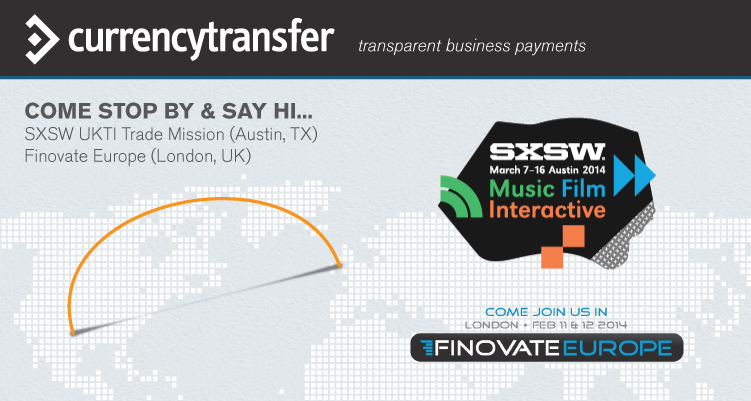 CurrencyTransfer Selected For Finovate & SXSW 2014
What a whirlwind couple months at CurrencyTransfer.com HQ! As we build towards the private launch of our innovative new currency aggregation platform for businesses, we want to keep you up to date with all the latest goings on behind the scenes.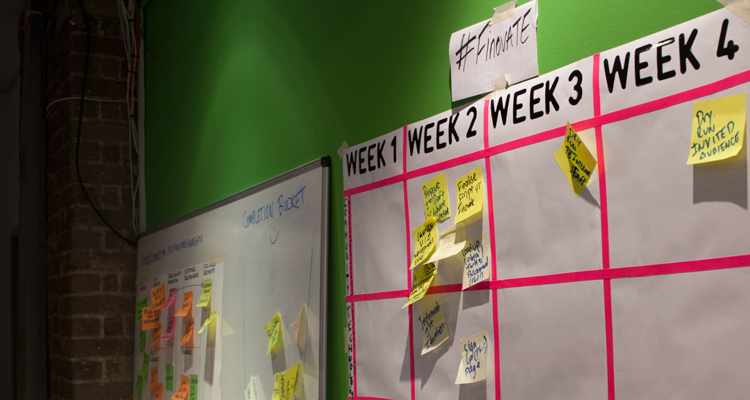 CurrencyTransfer Selected To Demo At Finovate 2014
We're so excited and humbled that on February 11th, we have been chosen to demo live our innovation at Finovate, the world's largest conference showcasing the future of financial and banking technology. We are tremendously excited to be a part of the market-leading demo based conference & can't wait to meet some of the 60 + other hot, exciting & innovative companies in the Fintech space.
We've had fantastic feedback from the team at Finovate. Craig Gordon, CEO of Finovate describes our product as :
"helping to democratize business foreign exchange. The platform adds efficiency, impartiality and transparency to the international payment process."
Thanks Craig! Now onto Dan & Stevan to practice, practice & practice some more their pitch! The selection criteria for Finovate demoes was: novelty, innovativeness, potential wow factor & diversity.
For the first time, our innovative comparison platform lets businesses access multiple foreign exchange quotes & book trades with FCA regulated currency brokers, in one single venue.
Think Expedia for Business Payments! We want to make booking great foreign exchange deals as easy as searching for a plane ticket online.

FinTechCity London
Prior to Finovate, we'll be attending a collection of events at FinTechCity London, a fantastic week long series of events for the FinTech community, starting on January 21. We're super excited to find out what companies have made the prestigious FinTech50 2014, the 'whose who' of financial technology companies in Europe. Congrats to the CEO Agenda & Hotwire for orchestrating such a wonderful & varied event. It's a must attend for our vibrant FinTech ecosystem.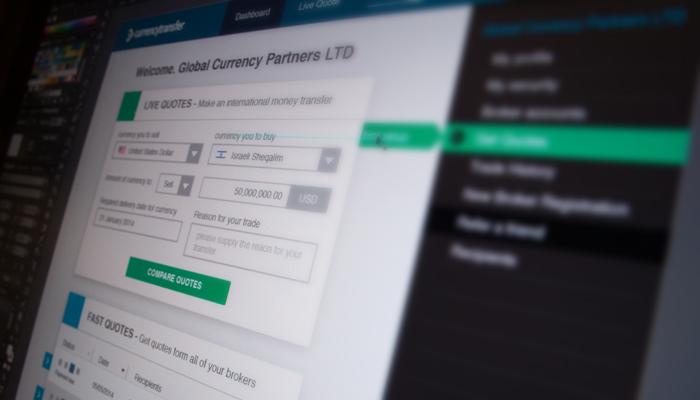 Selected by the UKTI as one of 40 digital companies heading to SXSW
One month later, Co-Founders Stevan & Daniel will be heading to Austin, Texas for SXSW (South by South West). CurrencyTransfer have been selected as one of 40 UK digital companies to participate in the UKTI trade mission.
If you are attending either, or both of these events, we'd love you stop by and say hello. We're a friendly bunch & can't wait to tell you more about our plans, visions & absolute focus in helping to democratize business foreign exchange.
Top tip for anyone thinking of heading to SXSW? Book your accommodation early! With two months to go, we've had a very brutal wake up call to the fact that Austin hotel rooms during SXSW are a hot commodity. We'll keep you updated on our hunt for a hotel room!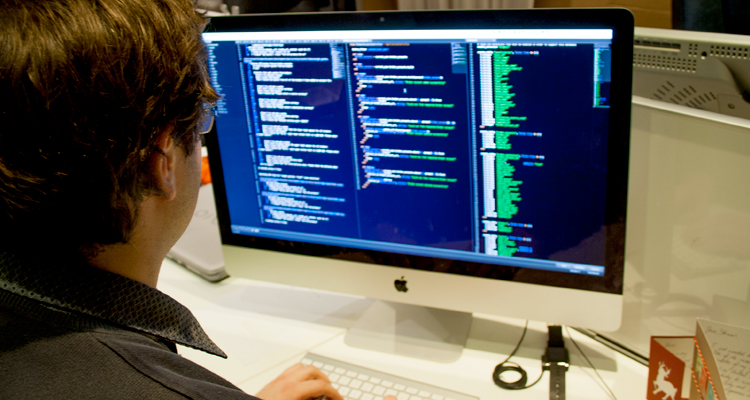 Product & Customer Development: From London To 'The Startup Nation'
Our Co-Founder Stevan & his team of developers in Tel Aviv, Israel are working hard on the final touches to our platform. Strategically, we chose Israel due to its highly respected hub of tech talent. Israel is recognized by many as being the second startup capital of the world after the Silicon Valley. Did you know: Israel houses more startups per capita than anywhere in the world. It has more data scientists per capita & more companies listed on Nasdaq than all of Europe combined!
In parallel, we're working hard on early stage customer feedback interviews & extensive usability testing in London. We are grateful to all the Finance Directors, Business Owners, Entrepreneurs & Advisors who have given such valuable feedback. We've taken all comments on board & you've helped truly highlight some of the major problems we are trying to address in the world of business foreign exchange.
So, be sure to check us out on twitter @currencytransfr and our site for ongoing show updates, product release & general progress.
Daniel Abrahams on Google +
Press Contact
To learn more about CurrencyTransfer, Finovate or SXSW, please contact press@currencytransfer.com