Diary of a Finovate presenter. The story of CurrencyTransfer.com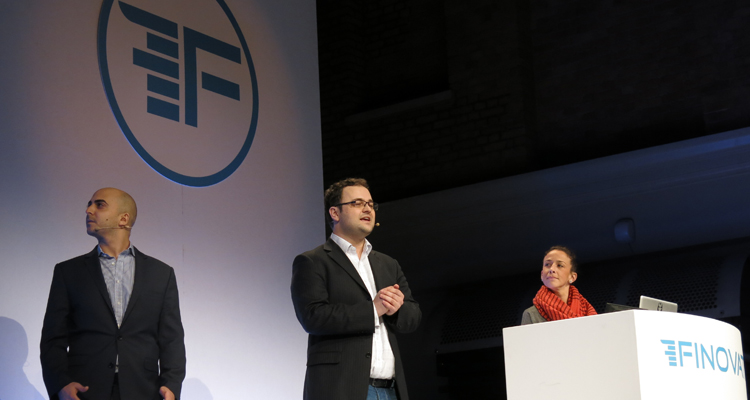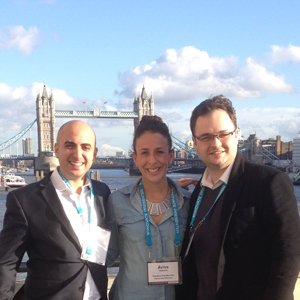 Sunday, 9th February
Co-Founders Stevan & Dan Pick up Aviva from Heathrow (Tabachnik, not the insurance company). She's flown in from our Tel Aviv office. Drive over to our offices in Covent Garden to go through a couple dry runs of the live demo. We have 7 minutes to present and each practice takes 10 minutes. EEK. Off to Wagamama for a team bonding session, then back to the drawing board.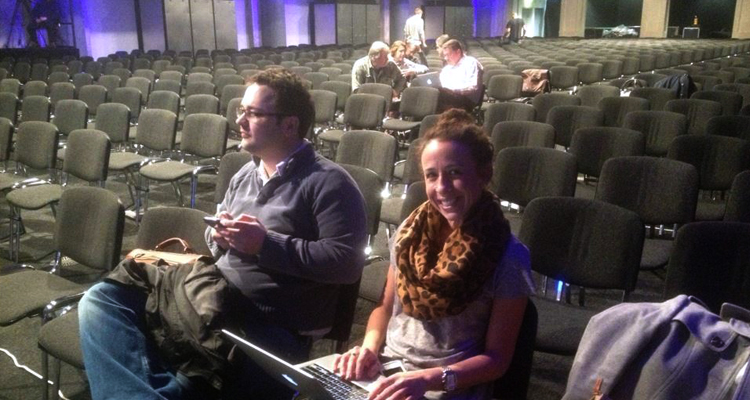 Monday, 10th February.
Dan, Stevan and Aviva go to Old Billingsgate for our dress rehearsal performance on stage. At first glance, the room blew us away. 900 empty chairs got the pulse racing a little. Good luck with 900 bodies in the room. Other than our timer failing on us, rehearsal goes to plan.
Afternoon comprises of a team Burrito in Covent Garden, last minute prep work and then off to a Pre-Finovate Balderton Capital dinner, hosted by Venture Capitalist Rob Moffat. Seeing 5 out of the 18 invitees in the cross-border payment space was exciting. It's a HOT space at the moment.
Alcohol consumption was limited due to early morning LIVE CNBC interview. First time on telly and no media training. What could go wrong?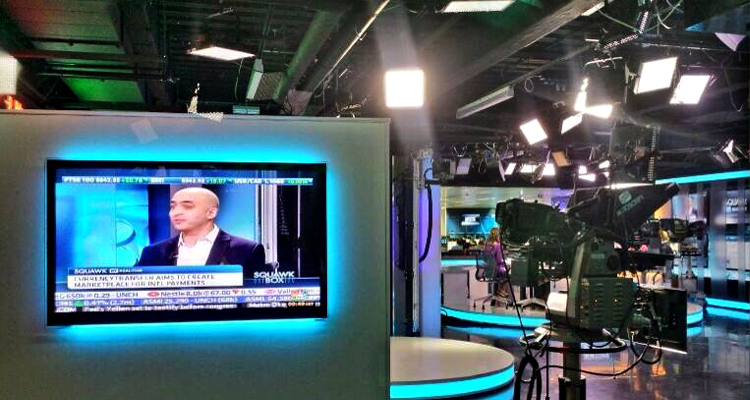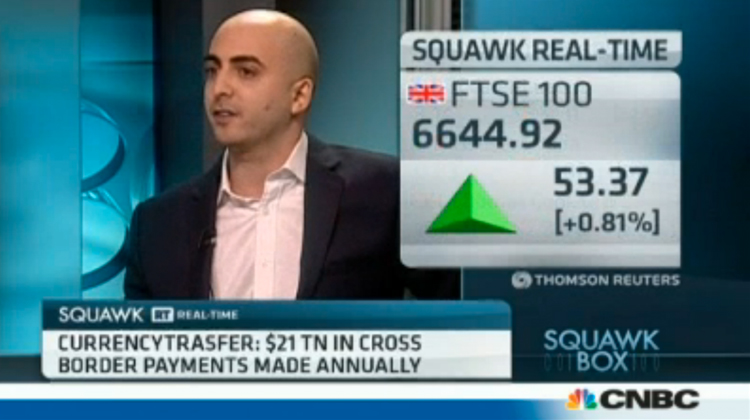 Tuesday, 11th February.
7am: Car picks up Co-Founder Dan from house and it's off to the CNBC studios, officially declaring the world that our foreign exchange marketplace, CurrencyTransfer.com is ready to rock and roll. Saying on air that brokers are "pulling down their trousers to show live rates" seemed to go pretty well! Perhaps I should have got that bit of media training
11am: Finovate begins. Ben and Abi from Hotwire PR keep us nice and busy, scheduling a whole collection of interviews with the press. It was a lot of fun, mixed in with a tinge of embarrassment to tell Business reporters that Co-Founders Dan & Stevan met online. Yes, online. Legitimate though – a website matching technical with commercial entrepreneurs. The bromance continues!
The rest of the day consists of mingling, listening to fast pace demoes and catching up with old friends. Was lovely to see my old housemate Jon from Lionbird VC over from Israel. And of course, Philippe from Kantox. Tel Aviv is in Europe (check the Euro 2016 draw) and is still number one over Barcelona Mr. Gelis!
As day 1 came to an end, we got together with the our friends from The Currency Cloud and Hotwire PR for post Finovate drinks across the road. Then it's on to our AirBNB for the night to get an early nights sleep, ready for the big day.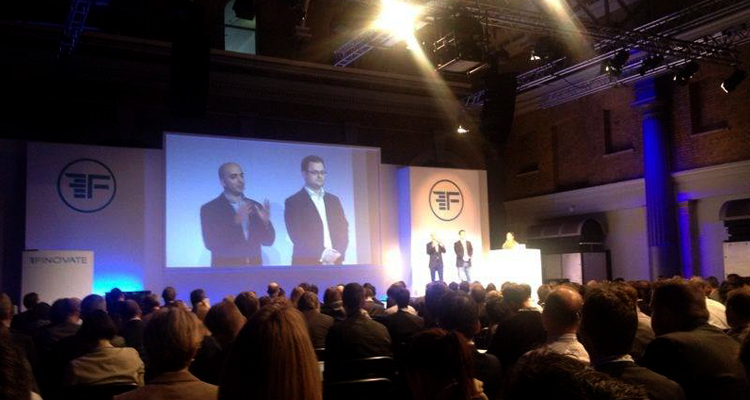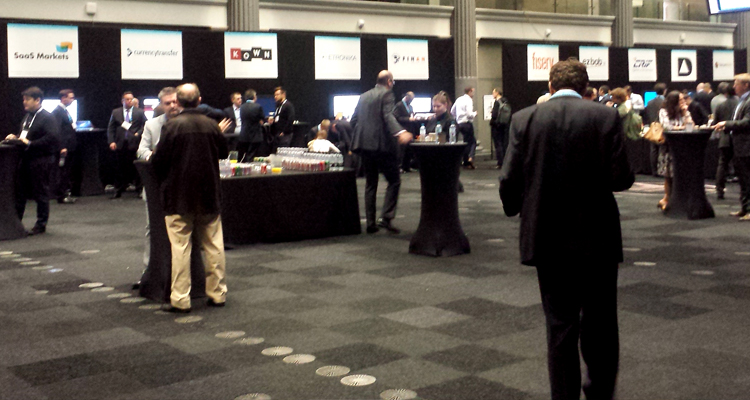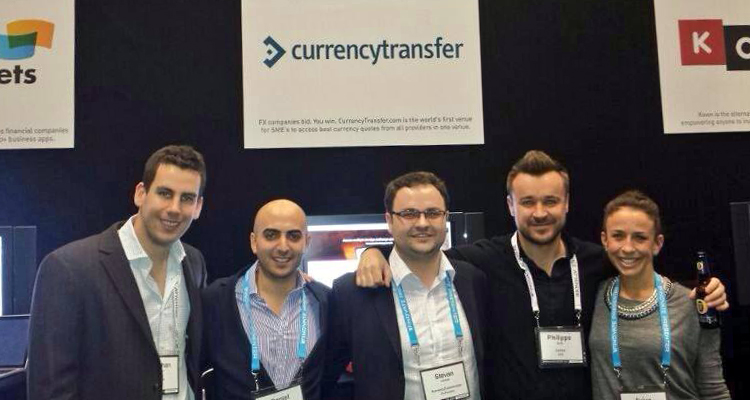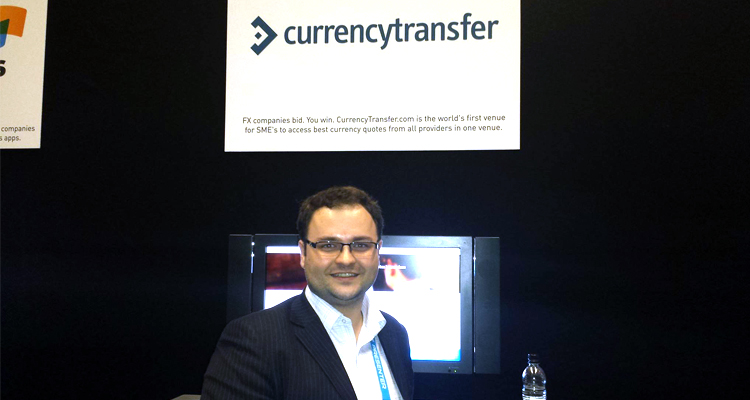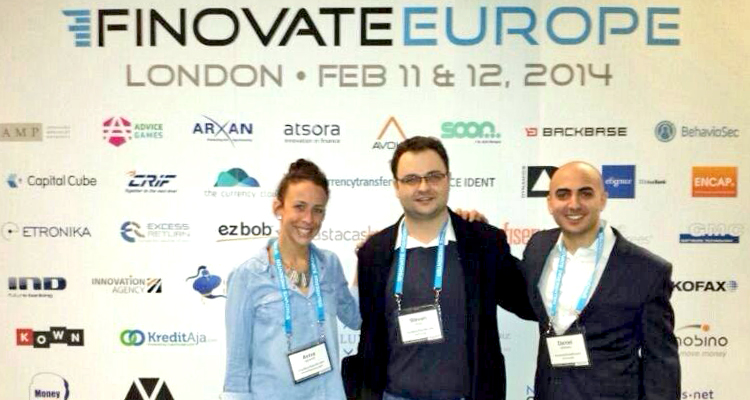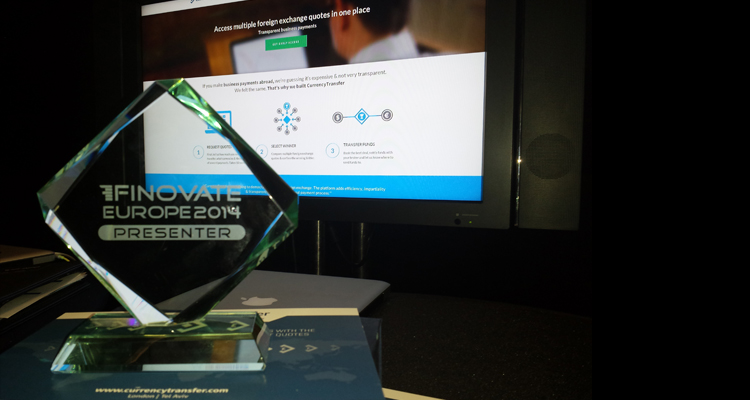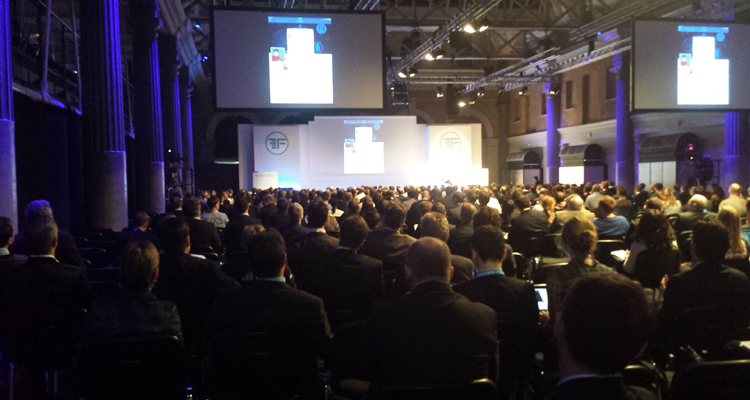 Wednesday, 12th February
Demo time, 9.24am! After one hour in the Green Room and a much-needed pep talk from self styled PR Spin Doctor Ben, the moment arrives.
Being on stage was an exhilarating experience for Stevan and myself. In the face of many within and outside the industry telling us 'this can't be done' for XYZ reasons, we stuck to our beliefs and spelt out to delegates our vision for a fairer, cheaper and more democratic business foreign exchange landscape. The platform, API and transitions worked too, which helps!
Given that half the room seemed to be bankers, we were thrilled at the reaction at our booth. The demo resonated with many of the attendees both within and outside the industry.
As Finovate wound down, our mentor Lee joins us at the Hotwire PR drinks and once again, it's great to see many other friendly faces in the FX community. Nigel, Chairman of The Currency Cloud invited us for a curry. A wonderful gesture! There were 16 round the table. We all let our hair down and celebrated together what was a fantastic couple of days.
Thursday: Time to relax right? Wrong. It's off to the offices of a prominent VC for a post-finovate catchup. Expected meeting for 30 minutes turns into a 2 and a half hour session. Must be a good sign?
Friday: Faced with a tower of 96 business cards, the process begins of wading through all our opportunities. From early adopters, investors, the press and potential channel partners, we're blown away by the reaction. The hard work begins! Note to self for future conferences: write brief notes on the back of business cards!
After a grueling week, we were ready for bed! The next 48 hours? SLEEP!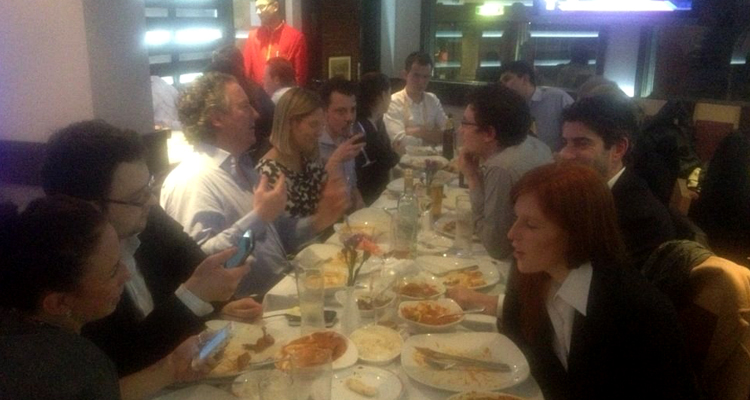 Extra special thanks to:
Craig, Heather, Gregg and the backstage team at Finovate. You put our minds at ease and had the whole operation running like clockwork.
Sable, The FX Firm, Infinity for believing in our vision and showing the market your core beliefs in transparency and customer choice. You set a wonderful example.
Mike Laven from TheCurrencyCloud for the big shout out on stage. Nigel Verdon for the curry tab. Steve Lemon for your support throughout the process and belief in our mission.
Team Hotwire PR. Ben, Abi, Eoin, Sole, Claudia – consummate professionals and a fun bunch of people to work with. Keep up the good work!
Adam, Dom, Marie, Vincent and the Captify crew for your feedback, support and mentorship. It's no surprise you're the leaders in what you do!
And last but most important, Team CurrencyTransfer. Phil, Or, Aviva, Chris, Lee, Sofia. We've held strong in our beliefs. We've challenged the status quo and now we're ready to bring those three key buzzwords to the reality: transparency, access and control.
 Finovate was a special milestone for CurrencyTransfer.com. We're thrilled to have spent an amazing week with such pioneering visionaries.
Roll on SXSW in Austin Texas (March 5-13), where we've been selected to 'represent the UK' as part of a UKTI Government mission. As you can see, the Finovate sprint goes up on the board, to be replaced by SXSW!
FinTech is alive and kicking! It's now time for us to deliver.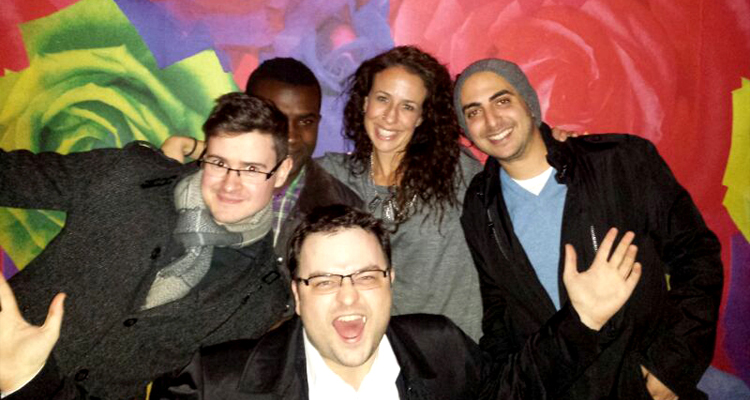 About CurrencyTransfer.com
: We're the world's first online marketplace matching businesses with the most multiple international payment quotes, offering trade execution ability in one live and transparant venue.