What countries have the best work-life balance?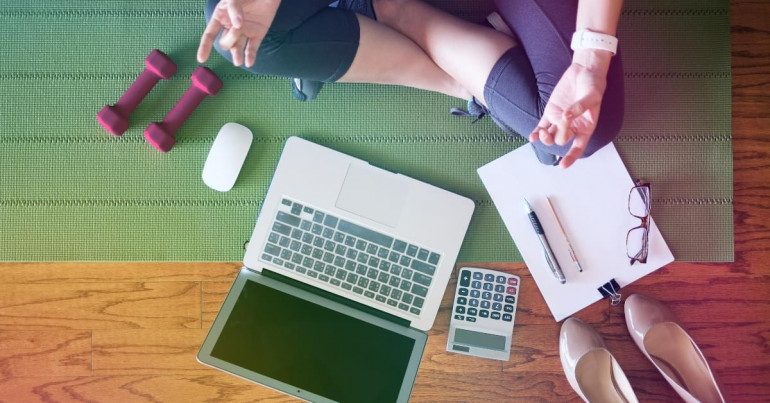 Working abroad can be a profound experience to grow both personally and in your career. Finding the perfect destination for you to work abroad and creating a work-life balance can be challenging yet rewarding.
Within this article we discuss various factors around work-life balance and which countries actively promote this. This includes factors such as the cost of living, entertainment options and job opportunities in each specific country. With that being said, we have provided some context below around work-life balance and several potential destinations for working abroad.

How can we measure work-life balance?
Managing personal and professional priorities
Work-life balance can be measured in a variety of ways. It usually is a combination of individual, organisational and societal components. Whether it's your working hours, parental responsibilities or the amount of personal time for yourself, these aspects have an impact on work-life balance.
Finding and creating work-life balance isn't straightforward and can be challenging. As a result, it's important to identify your personal and professional priorities. Deciding to work abroad and relocate to a new country can be an exciting and enriching experience. Nonetheless, in order to find a destination which is most suitable for you, it's worth weighing up several potential options.
Work-life balance is different for everyone and relative based on individual preference. Taking time for yourself to travel or simply booking time off to have a break from work can be beneficial to create greater work-life balance. Maintaining a healthy work-life balance is not only important for health and relationships, but it can also improve your employee's productivity, and ultimately performance.
Creating work-life balance whilst working remotely
Work-life balance has been regarded as important within the workplace for several years. However, conversation around the topic grew as a result of the pandemic and the shift this meant for most people. Remote working was previously scarce amongst businesses prior to 2020 with most people working from the office 4-5 days a week. Nonetheless, due to Covid-19 it became a necessity for people to work remotely full time.
The change in work dynamics meant that people were working longer hours and finding it more difficult to disconnect from work whilst at home. For example, research compiled in 2021 showed in the UK, many remote based employees were reportedly working two extra hours a day.
Remote working has highlighted the factor further that creating a good work-life balance can be challenging. Nonetheless trying to find the right balance will help you limit potential burnout and preserve enthusiasm for your work. This is particularly true when working abroad and working from a new location.
Which countries are nailing the work-life balance?
The OECD applies a series of metrics to establish a global ranking of countries according to work-life balance. All of their top 10 are in Europe. Contributing factors include the maximum 48-hour working week across the European Union, generally high standard of living, and proactive legislation.
When choosing where to work abroad there are various components which need to be considered. Work-life balance can be different for each person, depending on their preferences, family commitments and career objectives. For working abroad, it's important to choose a location that provides the right work-life balance for you.
We listed below some popular expat destinations for working abroad. It includes countries that have a high standard of living, job opportunities, employer flexibility for families and tourist attractions.
Netherlands
A top destination among expats for its quality of life and work-life balance, the Netherlands is a great option for working abroad. The Netherlands actively seeks out international entrepreneurs and has many great programs to help them invest in local companies. Additionally, the Netherlands is ranked within the top 5 innovation leaders within Europe.
The Netherlands is considered a safe country with a range of social programs. It also has a strong economy, leading to its top five-place ranking on the 2021 Happiness index. Additionally, the Netherlands is on the cutting edge of research and academia, and expats will find various opportunities to work in these fields. With a strong focus on sustainable energy and a clean environment, the Netherlands is also a great place to find work in the tech or energy industries.
Denmark
Denmark promotes a fantastic work-life balance, has strong social welfare resources, including professional child care and public healthcare. It is also one of Earth's safest and happiest countries. Combining this with the high standard of living and strong economy, it's easy to see why it is one of the best destinations to work abroad.
Copenhagen was also listed as one of the least burned-cities in Europe by a study conducted by sleep research site Sleepjunkie. Stress and burnout are factors which negatively contribute towards an individual's wellbeing and experience living abroad. Therefore, this indicates that Denmark can be a great choice if you prefer to work less hours and enjoy greater leisure activities during the week.
Italy
People in Italy enjoy the best work-life balance, according to recent findings by the OECD. There is a growing trend in the Italian business culture as they are aiming for striking the work-life balance by introducing practices towards remote jobs and flexible working hours. With family time being such an important aspect of Italian culture, the country has capped the normal working hours per week at 40. Just 3% of employees work long hours. They also have 12 national holidays.
Italy has a relatively low cost of living, which is a benefit if you're moving from countries where cost of living tends to be high. Nonetheless, renting property in parts of Italy such as Milan is still relatively expensive.
Portugal
Portugal is a hot and culturally diverse country which caters to foreigners well. It is a popular destination for digital natives who are considering working remotely or in a co-working space. There are also many networking groups, and professional associations dedicated to digital nomads. Portugal also has the cheapest cost of living in Western Europe which is a great advantage.
Since Portugal is part of the European Union, EU citizens are free to relocate there. British citizens can still move to cities such as Lisbon or Porto, however they now need to go through the same process as all other non-EU citizens. There have also been changes to how British citizens purchase property in Portugal and other parts of Europe after Brexit.
Sweden
As is the case with Scandinavian countries, Sweden puts a lot of emphasis on work-life balance. Sweden citizens enjoy flexible working hours, six weeks of work vacation time, and 480 days of parental leave which demonstrates that family is seen as a priority. In Sweden, there are also flexible work hours. It is quite unusual when people stay at the office past 5pm, especially on a Friday. Working hours tend to be flexible and you're also able to do remote work if necessary.
Stockholm, the capital city, is a popular destination for expats who move to Sweden. This is due to the ease of travelling around the capital as well as the vibrant art at metro stations. In terms of cost of living Stockholm is expensive, particularly accommodation. Alternatively, small towns and rural areas within Sweden are cheaper than cities to live in.

Why you should consider CurrencyTransfer for your international payments
High street and commercial banks usually charge a high transaction fee when sending a money transfer. Additionally, they don't provide much flexibility with the type of payment transfers which can be made.
When sending money abroad for a personal transaction, CurrencyTransfer provides a cost effective and transparent service. FX tools such as forward contracts and market orders also enable you to transfer money in a much more flexible and convenient way. We offer international expat money transfer options enabling you to transfer money faster to countries worldwide.
Whether you need to send a large sum abroad to purchase property or personal investments, we provide a first class service throughout the payment process. Once you open an account with CurrencyTransfer, we also offer a dedicated relationship manager to assist with any questions you may have.