Moving to New Zealand from the UK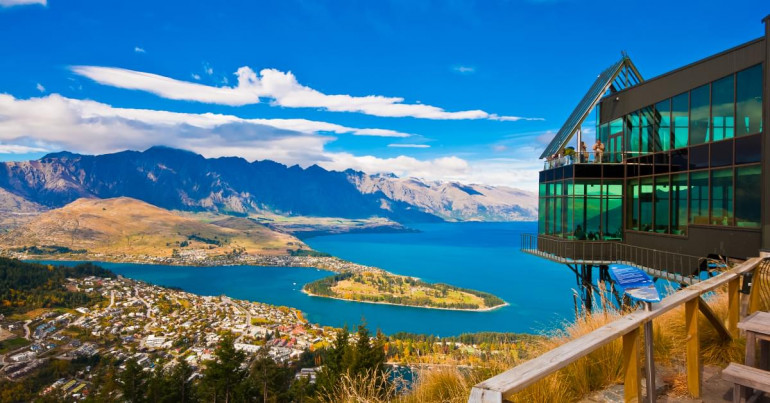 Relocating to a new country can be an exciting opportunity. It creates the possibility to experience a new culture, meet new people and expand your horizons. Nonetheless, the planning stages before making the move is essential to ensure the move is executed well. This is especially true when it's to a country which is across the world.
In this guide we will be providing an overview of what you need to consider prior to your move to New Zealand, from the administrative bits to the best places to live.

Relocating to New Zealand
What visa do you need for a permanent move?
There is also the possibility of gaining a permanent visa when moving to New Zealand. Below are some options available to UK citizens looking to move permanently.
Skilled migrant visa
This visa is available for those aged under 55 It lets you live, work and study in New Zealand permanently, and allows your partner and dependent children (aged 24 and under) to do the same. It's a points based visa, assessing your skills, qualifications, work experience and whether you have a job offer.
Residence from work visa
If you're under 55, this visa allows you to live and work in New Zealand for 30 months. To meet the eligibility requirements you'll need to have a long-term job offer on the skills shortage list. After working for 2 years it's possible to apply for permanent residency from a work visa.
Entrepreneur Resident Visa
This grants permanent residence to individuals who are already in New Zealand on an Entrepreneur visa and who have been self-employed for at least 6 months. Applicants applying after less than two years of self-employment must have invested at least NZ $500,000 and created 3 new jobs.
Finding a home in New Zealand
Jumping into a new housing market can be challenging and it's even harder to start searching whilst abroad. House prices within New Zealand have fallen for the first time in 11 years recently due to policy tightening.
The average price of houses is roughly 810,000 NZD (£427,349). It could also be worth comparing the cost of living within NZ compared to the UK, which can be browsed easily on sites such as Numbeo.
If it's your first time in New Zealand, a tip is to take a holiday over there first. As a UK resident, you have visa-free entry for 6 months, which can be useful to visit and explore housing. Otherwise, renting temporary accommodation is a good place to start. Similar to most countries, the most populated city Auckland is expensive relative to other smaller cities within New Zealand. You can find further information regarding housing on this New Zealand government page about housing.
Visiting New Zealand before the big move
All visa categories including tourist, visitor and student visa have been open for applications from international travellers. Below we will look at the options for temporary visas and Immigration to New Zealand.
Working holiday visa
Working holiday visas are available to young people, usually aged 18 to 30. This visa lets you travel and work in New Zealand for up to 12 months, or 23 months if you are from the UK or Canada. If you apply for a 23-month visa, you must provide a General Medical Certificate.
With your working holiday visa you can study one or more courses for up to 6 months in New Zealand. For example, you could study English for up to 6 months, do a Study Abroad programme for up to 6 months, or a short training course in New Zealand. For a profession, the working holiday visa provides the opportunity to work for up to 12 months within any sector.
Electronic Travel Authority (ETA)
If you apply online with iVisa, you will be granted access for up to 2 years from the entry visa being issued. The expiration date is mentioned on the Electronic Travel Authority once issued. Here is what you need to provide:
Passport – if you decide to apply online you will need to have a valid passport. However, you need to make sure that the document is valid for at least another 3 months from your date of departure from New Zealand.
Digital photo – the photo needs to be as recent as possible and meet all the other guidelines for a passport photo.
Means of payment – iVisa asks you that you make the payment during the application process. You can do that using a credit or a debit card, but you can also pay using PayPal.
E-mail address – iVisa will send you the visa via e-mail in PDF format. It's best to print a few copies so that you have a few extra copies.
Proof of financial means – once you arrive in New Zealand, you need to prove that you can support yourself during your trip. A bank account statement should be more than enough.
Return flight ticket – when you arrive at the airport, you may be asked to show a return flight ticket to your country of origin (or another destination if you are in transit). If you do not have one, you need to prove that you have the financial means to purchase one.
5 great places to live in New Zealand
New Zealand has a lot of beautiful scenery and greenery within the country. This is a country which has garnered a lot of interest from international expats for good reason.
The way of life in New Zealand is extremely laid back with a strong emphasis on a good work/life balance. With the good weather, excellent leisure facilities, and the fantastic outdoor lifestyle, it is the quality of life that attracts most British expats to live here.
During this section we will be comparing and contrasting major cities within New Zealand.
1. Auckland – Best for arts and culture
Auckland is the capital of New Zealand and is the most popular expat destination within the country. Auckland is a culturally diverse city with a mix of expats, locals and polynesian islanders. Although accommodation in Auckland is the most expensive in New Zealand, there are a variety of living options available to expats. Expats will find that houses situated from the shore are generally cheaper than those in beach areas.
This cosmopolitan city has a population of roughly 1.7 million. It offers expats a vibrant atmosphere and plenty of things to do. All of these factors make Auckland an excellent place for expats looking to further their careers or seek new opportunities.
2. Wellington – Best for shores and adventure
Wellington is a city with a great buzz and expat community. There are a lot of outdoor attractions to take in and explore. These include attractions such as Botanic Gardens, Mount Victoria and Wellington Central Park. Wellington is very artsy and is also home to many filmmakers including Jane Champion. Wellington also has over 100 parks and playgrounds which makes it family friendly. Additionally, there is a relatively low cost of living in Wellington compared to Auckland.
Wellington's population is roughly 419,000 people, making it a small city relative to cities within the UK. For retirees looking for a slower pace of life, whilst still being a part of a growing economy Wellington is a good option.
3. Christchurch – Best for retired expats
Set in an area of frequent seismic activity, known as the Pacific Ring of Fire, Christchurch was rocked by a powerful earthquake in February 2011, destroying much of the central urban area. Christchurch is rebuilding the city but it's still in progress. While this has had a devastating impact on the city, Christchurch has set about rebuilding and enhancing its inner city.
New shops, businesses and leisure initiatives are springing up all the time and a coordinated plan for the reconstruction of buildings and infrastructure is ensuring that the city emerges a stronger, greener, happier environment than ever before. Visitors and new arrivals receive the warmest of New Zealand welcomes and with the vast majority of its inhabitants describing themselves as being of European origin, British expats in particular are quick to find themselves very much at home.
4. Queenstown – Best for tourist activities
Queenstown is a popular tourist destination due to the mountains, many tourist activities and beautiful scenery. It's a popular destination for travellers looking to complete a ski season at one of the many local ski peaks. In addition, if you're looking for adrenaline seeking activities, bungee jumping and steep cable cars are also available to try.
Queenstown is an expensive city, and it is in the top 5% of the most expensive cities in the world. It is not the most expensive city in New Zealand, but it's the 3rd, after Auckland and Wellington. Despite being a small town, Queenstown has many different events and festivals in the summer.
Queenstown is also home to some of New Zealand's most notable heritage walks, which wind their way through the unforgettable natural scenery. This area also has a rich Māori heritage. Today, you can take in one of the many tours around these areas, and learn about it from locals.
5. Rotorua – Best for work-life balance
Rotorua has a lot of scenery and natural greenery. This includes forests, lakes and geothermal resources. Rotorua has a vibrant community with an excellent work-life balance and a high standard of living. More people are looking to the regions for affordable housing and a better lifestyle, and Rotorua is well placed to capitalise on that.
Central Rotorua can become crowded, but there are multiple attractions to get away from busy parts of the city. For example, Wai-O-Tapu Thermal Wonderland features neon-bright sulphuric lakes, mud pools and fumaroles. Alternatively, Whakarewarewa and Te Puia are amongst the most popular Maori villages showcasing more mud pools, geysers and silica terraces.
Moving pets to New Zealand
If you're moving to New Zealand with a dog or a cat, you can either; have the pet on the same journey as you or find an airline that specialises in moving pets. However, your pet needs to meet certain requirements. The most common way to transport your pet is via air transport. Therefore, be sure to consider the following list of costs and requirements before your pet boards the plane:
Ensure that all of your pet's vaccinations are up to date. This includes a rabies vaccination 6 – 12 months before moving. This is likely to cost around £400.
An import permit costs around £125.
All pets imported from the UK must be quarantined for a minimum of 10 days. This is likely to cost between NZ$1,400 and NZ$2,000 (£800 – £1,200) including transportation and government inspection fees.
Unfortunately, apart from cats and dogs, it is forbidden to import a pet to New Zealand. Therefore, if you have an exotic pet or even a hamster or rabbit you might have to rehome your pets with a new loving family.

Random facts about New Zealand
We've put together a list of random facts for New Zealand which show the uniqueness of the country.
1. 30% of the country is a national reserve: New Zealand has an array of hills and forests throughout the country. This essentially means that the population safeguard and protect its natural reserves.
2. It has the town with the longest name in the world: Taumatawhakatangihangakoauauotamateaturipukakapikimaungahoronukupokaiwhenuakitanatahu. A bit of a tongue twister!
3. New Zealand is home to a lot of sheep: It's a general consensus that there are 9 sheep to 1 person living in New Zealand. That puts the total number at around 40 million sheep. Additionally, humans are only 5% of the population with the rest being animals, making it the highest animal to humans ratio in the world.
4. The New Zealand All Blacks are the most successful team in sports history: Since 1903, the All Blacks have had a 77 percent winning record in test match rugby. Famous around the world, the haka has become an iconic ceremonial and recognised dance which is performed before a match.
5. The Blue Lake in New Zealand is the Clearest Water In The World. New Zealand has a lot of beautiful lakes within the country and blue wonders.
CurrencyTransfer can help with your international money transfers
If you're moving Down Under from the UK on a permanent basis, you'll most likely need to transfer money between your international and UK bank accounts. Whether making property payments overseas or transferring your savings over to yourself, sending money from the UK to New Zealand is an essential part of emigrating.
UK high-street banks will usually charge a transaction fee for each online transfer made. As a result, it can be an expensive way to send money overseas. At CurrencyTransfer we are a team of FX specialists who are dedicated to saving you time and money on your overseas payments. Our service provides a transparent and cost effective way to send money and exchange payments from GBP to NZD.
Sign up today and if you have any additional questions please don't hesitate to contact us.