Daily Market Brief – 9th September 2015
GBP losing streak against USD
Quote of the day: "Don't watch the clock; do what it does. Keep going. Sam Levenson"
September 9th: Highlights
Sterling bounces back after last week's losses
EUR struggles to gain
Asian governments take action
USD broadly weaker
Increased risk appetite across market
Sterling Comment
Despite the Pound completing its longest losing streak last week against the USD, it has managed to erase all losses, and has bounced back against a basket of currencies. Sterling has strengthened for another day in a row, helped by M&A news confirming Japanese Insurer, Mitsui Sumitomo Insurance, will be buying Britain's Amlin Plc.
Today, we see manufacturing and industrial production data released, as well as the UK trade balance. Stronger data released today will increase expectations going into tomorrow, where we will see the more important release of the MPC announcement. Policy is expected to remain unchanged, but there is suggestion that a slight bias towards monetary tightening may be seen.

Global Comment
Despite German imports and exports reaching record levels, and upward revisions to the EU growth figures (rising from 0.4% to 0.3%), the EUR has struggled for gains. There is no data expected from the Eurozone today, leaving the EUR vulnerable to direction from the wider market.
Although uncertainty surrounding China's economic growth remain, Asian markets have been stronger across the board, after the S&P 500 closed up 2.5%, and major governments in Asia were seen to take action. The Japanese Prime Minister pledged to drop corporate tax rates, and the Chinese Government showed that they're ready to use fiscal policy.
Market uncertainty over US Fed policy action remains, as investors lose confidence in a rate hike in September. However, US JOLTS job openings data is scheduled to be released today, with improvement expected from 5.25m to 5.29m. Stronger data could provide support to the USD, which is broadly weaker due to rising European stock markets. However the commodity currencies, especially AUD and NZD, are gaining due to actions across Asia.
The Reserve Bank of New Zealand is expected to slash rates tonight from 3% to 2.75% tonight, whereas The Bank of Canada, is not expected to move rates from 0.5%.
Morning mid-market rates – The majors
85% savings. Job Done. So, what is the secret sauce of the CurrencyTransfer.com marketplace?
CNBC described us as 'disrupting global money transfer'. Finally, you kiss goodbye to hidden fees.
How are we innovating?
Well, we are not an expensive bank costing you up to £1,500 on every £50,000 trade. Neither do you ever need to ring around multiple brokers and speak to sales guys. Pretty inaccurate way of shopping around. We help you maximise the value of each transfer. Quite simply, you are in control. Foreign exchange companies compete in a LIVE marketplace to win your business.
You win!
Got a question? We'd be delighted to help!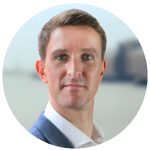 Paul Plewman
Director of Sales & Operations
t: +44 (0) 20 7096 1036
e: paul@currencytransfer.com