EUR Monthly Review May 2018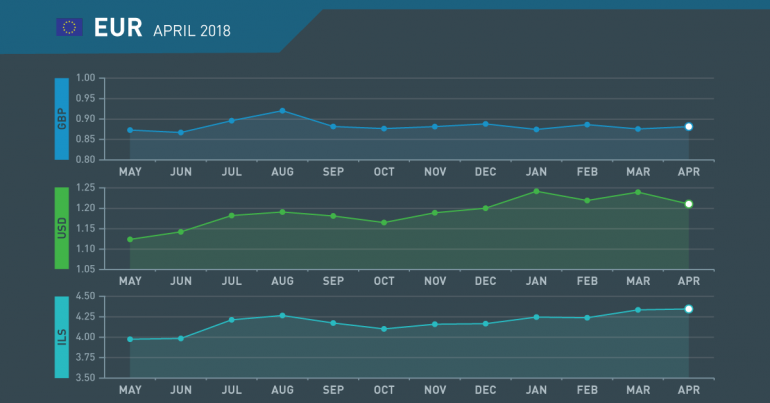 EUR Monthly Review May 2018
April in review
Business confidence fading
ECB continues in dovish mood
Euro remains within range
Bad debt overhang remains
Eurozone still short of complete Monetary Union
ECB continues dovish stance
The ECB remained stoically dovish at its latest meeting with President Draghi continuing to point out the risk to weaker economies of the removal of accommodation. They did not indicate when policy may change, but it is unlikely to be in 2018.!
Euro on "well-trod path"
The Euro remains within its medium-term range although it has moved close to its lows during the month, predominantly due to dollar strength. Traders have little expectation of support from the ECB so are content to "trade the range", looking for good news elsewhere.
Bad debt overhang remains
One of the major concerns going forward for the Eurozone is the volume of bad loans remaining from the financial crisis. Despite Greece and Cyprus having the largest percentage of bad loans, the largest volume in Euro terms are held by French and German banks. This will need to be addressed by the ECB and could slow down economic activity if banks become less inclined to lend.
More work needed on Monetary Union
There is a widespread belief that Eurozone monetary union is complete, but in reality there is still a long way to go on a path strewn with mistrust. For example, a unified deposit insurance scheme is needed, but there are concerns that it will dissuade laggards from compliance as they will be able to rely on those banks/countries that do comply.

May what to watch
Non-Financial issues a Concern
A campaign to replace Draghi set to begin
Refugee crisis to raise political temperature
EU reform plans to be revealed
Brexit trade concerns to spill over
France and Germany set to lock horns
The credentials of François Villeroy de Galhau and Jens Weidmann are set to become closely aligned to the demands of their respective Central Banks as the campaigning begins for the next ECB President. It may become a clash of doctrine and personality, with Frankfurt likely to play the "it's our turn" card.
Summer to bring refugee issues
The EU refugee crisis has become something of a seasonal event as the weather improves and more displaced people are prepared to make the hazardous journeys involved. The countries in the East of the region continue to object to the forced quotas being demanded of them and may rebel.
EU reform plans to be revealed
Emmanuel Macron and Angela Merkel are sufficiently secure at home now to push for greater integration within the EU, particularly in the areas of welfare and defence. Their proposals, yet to be fully revealed, could meet with strong resistance from several nations who wish to keep their sovereign status.
Brexit; more than a UK issue
While it is likely that the UK faces the most significant upheaval from Brexit, there are concerns amongst the EU's larger economies about their potential loss of a lucrative export market. There are moves to ensure that the UK receives more favourable terms that are presently being offered by Brussels.
03
Thursday
Spanish Unemployment Change
CPI Flash Estimate y/y
15
Tuesday
German Prelim GDP q/q
Flash GDP q/q
German ZEW Economic Sentiment
24
Thursday
German Flash Manufacturing PMI
German Flash Services PMI
Flash Manufacturing PMI
Flash Services PMI
25
Friday
German Ifo Business Climate
29
Tuesday
Spanish Flash CPI y/y
M3 Money Supply y/y