USD Monthly Review May 2018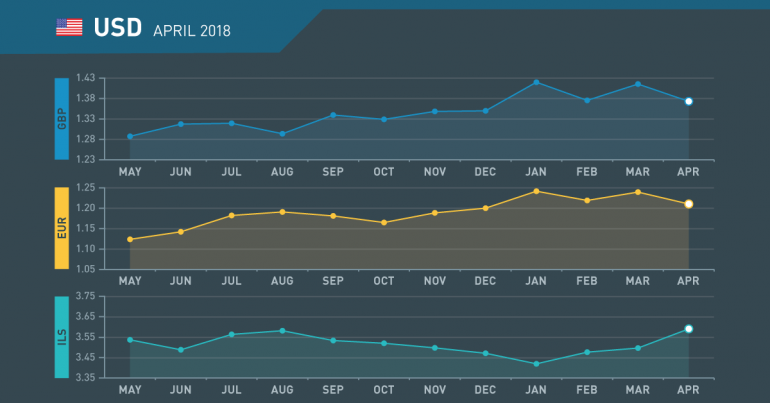 USD Monthly Review May 2018
April in review
Trump Foreign Policy Successes
Syria and North Korea raise risk appetite
Long-term yields reach 3%
Inflation remains benign
Dollar index above short-term resistance
Trump is writing his legacy
Despite his detractors' opinions, there is no doubt that President Trump enjoyed major success in April. The pressure brought to bear on North Korea has seen Kim Jong-un suspend nuclear testing and the "surgical strike" on Syria's alleged Chemical Weapons facilities have brought about a change in global risk appetite and provided a boost to the dollar.
Long-term yields rise
The yield on ten-year U.S. Government debt has risen to the psychologically significant 3% level for the first time in four years. The market's concern over America's trade and burgeoning budget deficit has led to higher rates.
Benign inflation provides FOMC with wiggle room
Jerome Powell, the new Chairman of the Federal Reserve, is the perfect man to take over in the current economic environment. His background determines that he can act in a reactive way to the economy without the need for further pre-emptive action as favoured by his predecessor. With CPI well below the level expected at this stage of the economic cycle, the FOMC can afford benign neglect.
Dollar recovering a little poise
The dollar index has rallied above its short-term resistance at 90.50 and looks set to move higher, although the Euro, which is the primary constituent of the index has strong support at 1.2160 which may halt the advance.

May what to watch
Wages Growth to spur FOMC
Employment report to provide a clue on FOMC
N. Korea summit announcement expected
Mnuchin to visit China?
Short-term dollar sentiment to remain positive
NFP likely to set the tone
As is generally the case, the employment report will set the tone for the economic performance of the dollar during the month. While the headline remains inconsistent, the rise in wage growth will have a significant effect on the prospect for future rate hikes.
Trump/Kim summit to be confirmed
Following Secretary of State nominee Mike Pompeo's visit to Pyongyang, the date and venue for the Summit between President Trump and Kim Jong-un is likely to be announced. This will have a major effect on global risk appetite and a significant bearing on the Korean Peninsula.
Mnuchin to visit China
As well as the U.S./N. Korea summit, it is proposed that Treasury secretary Steve Mnuchin visits Beijing to discuss the trade agreement between the U.S. and China. This will be a significant step in relations between the two countries and will be a further boost to global risk appetite.
Dollar sentiment to remain positive
The dollar is benefitting from several positives, and that is set to remain giving the greenback momentum to post new 2018 highs in May. A weakening JPY, EUR and GBP should see the dollar index climb to test 92.20.
02
Wednesday
ADP Non-Farm Employment
FOMC Statement
03
Thursday
ISM Non-Manufacturing PMI
04
Friday
Average Hourly Earnings m/m
Non-Farm Employment Change
Unemployment Rate
15
Tuesday
Retail Sales m/m
Empire State Manufacturing Index
16
Wednesday
Building Permits
Housing Starts
17
Thursday
Philly Fed Manufacturing Index