GBP Monthly Review May 2018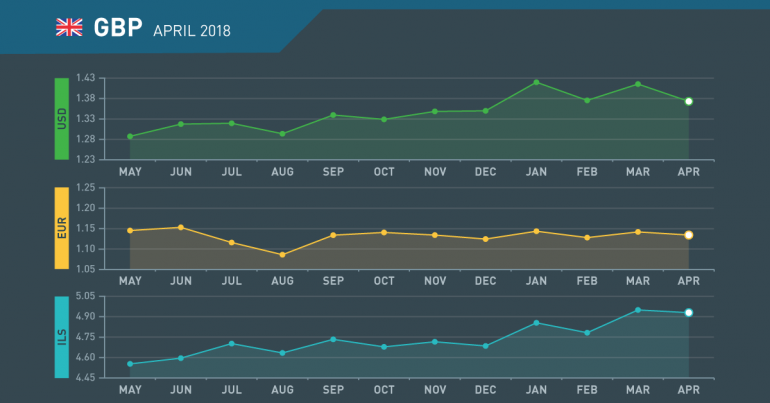 GBP Monthly Review May 2018
April in review
Carney Questions Rate Hike
BoE Governor not convinced
Sentiment turns against Sterling
Inflation falls to 2.5%
Incomes outstrip prices
There will be other meetings!
Bank of England Governor poured cold water on market expectations for a rate hike next month when he commented about concerns of the economy and the headwinds it is facing. He believes that a hike may be too soon as he said there would be other meetings. MPC Hawk Michael Saunders countered Carney's view by saying that hikes need to be gradual but not glacial.
Pound under pressure as sentiment turns
Like a rubber band that can only be stretched so far, Sterling found the 1.4380 level too much to bear, and a change in sentiment brought it back to its recent lows. It reached a low of 1.3732 and now has a clearly defined range.
Inflation continues to fall
Inflation in the UK fell to 2.5% in March as the effect of the Brexit collapse in Sterling faded. The fall in CPI was a significant contributor to the markets change of heart regarding a rate hike next month.
Employment and wages a source of good news
Incomes outstripped prices for the first time in over a year following the fall in CPI. With wage increases averaging 2.8% including bonus payments, this was the only source of positivity for the economy during the month.

May what to watch
MPC Still Unsure
Hike seen at 50/50
Brexit concerns remain
Local elections to pressure Government
Pound likely to remain under pressure
Hike not completely out of the question
The proposed rate hike that had been driving the pound higher over the past few weeks is unlikely to happen given the March inflation data but since the April figures will be available before the MPC that view could still change.
Brexit concerns rumble on
Michel Barnier, the Chief EU Brexit Negotiator, will continue to call upon the UK to clarify what it wants from the relationship post-Brexit as the UK Government prevaricates, unable to pass agreement through Parliament over a deeply divisive issue.
Local elections bring pressure
UK Local Government elections being held on May 3rd will be considered a vote of confidence in the Government despite them being fought over local issues. Significant opposition gains will bring further pressure for another General Election.
Sterling to remain pressured
The pound will remain under pressure unless there is a major shift in expectations for a rate hike. Economic data has been turning lower, and with Q1 GDP at just 0.4% and Brexit on the horizon, the sentiment is unlikely to become positive.
10
Thursday
BOE Inflation Report
MPC Rate Decision
Manufacturing Production m/m
Goods Trade Balance
15
Tuesday
Inflation Report Hearings
16
Wednesday
Average Earnings Index 3m/y
Unemployment Rate
22
Tuesday
CPI y/y
RPI y/y
Public Sector Net Borrowing