ILS Monthly Review August 2018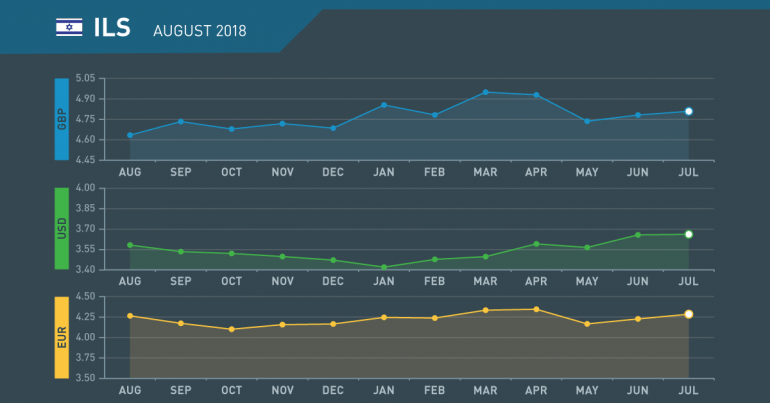 ILS Monthly Review August 2018
July in review
Shekel Higher After Comments
Q1 growth revised higher
Housing market taking off
El Al/Air India dispute unresolved but shelved
Relationship with China adds volume to enterprise
Growth continues to rise
Q1 growth estimates were raised again in July as the economy grows at a pace despite concerns about its ability to sustain growth more than 4%.
Housing market shows solid base
The housing market is starting to have a significant effect on all aspects of Israeli life. The market is "booming like crazy" with activity in suburbs of Tel Aviv at an all-time high.
Air travel dispute shelved
El Al has shelved plans to contest the right of Air India to gain a competitive advantage from its ability to fly between India and Israel using Saudi airspace. This will clear the path for further negotiations.
China deals add volume to enterprise
The growing relationship between Israel and China has given Israeli enterprise access to Chinese manufacturing capability. This can sustain growth and maintain trade links.

August what to watch
Shekel Retreat As Dollar Rally
Tech invasion raising concern
MoF to raise more funds after record low issue
Rating rise to aid future development
Debt to GDP ratio to continue fall
Concerns mounting over cyber-terrorism
While there has been a lull in violent terrorism, concerns are growing over state sponsored cyber-attacks on Israeli infrastructure.
Shekel in thrall of dollar actions
The Shekel rallied following President Trump's tirade against dollar strength and this will likely continue which will have a positive effect on inflation.
Improving debt rating adds to economic hopes
Moody's raised Israel's debt rating to positive which is encouraging following the recent bond issue and will encourage the MoF to act again.
Debt to GDP ratio to fall despite new issues
The positive international attitude to Israeli debt could see the MoF come to the market soon, especially since with growth above 4% the debt to GDP ratio is still falling.