EUR Monthly Review August 2018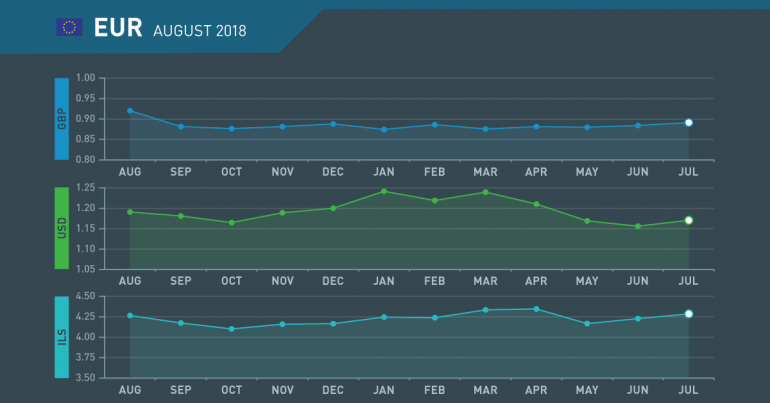 EUR Monthly Review August 2018
July in review
Dovish Ecb Lowers Euroo
Draghi remains on track
ECB desire to hold euro lower is working
Political issues continue in the background
Tough Brexit stance an example to others
Draghi remains on track to never hike rates
At its latest meeting, the ECB remained dovish on monetary policy, but President Draghi was more upbeat about the prospects for the economy. Greece was again denied access to the Asset Purchase Scheme which they requested to support their efforts to reduce their deficits.
ECB desire for a lower euro is working
The ECB is managing to remain outside of U.S. exchange rate manipulation legislation as it pursues a monetary policy that has the "side effect" of a weaker currency. President Trump has already accused Germany, but they can rightly point to policy being put in place by the ECB, not the Bundesbank.
Political issues remain an issue
The summer continues to bring boatloads of refugees to Italian and Spanish shores and the recent refusal of France to allow a boat to dock has further highlighted the issue. Italy continues its policy of sending undocumented migrants to Germany which will pressure Chancellor Merkel.
Brexit stance an example to others
Rather than extol the virtues of continued membership of the EU and the benefits of greater integration, the European Commission is using tough Brexit negotiation tactics to illustrate to waverers the cost in terms of both central assistance and financial support of choosing to depart.

August what to watch
Can Eu & U.S. Agree A Trade Pact?
Both sides have much to lose
QE reduction set to start
Macron losing support from all sides
Rising German inflation to concern Bundesbank
EU/U.S. trade is vital to both sides
The Trump-Juncker love-in which took place recently showed how important trade between the two economic giants is. They are closer together bi-laterally than the U.S. & China which makes negotiation easier. The ability of Germany to export vehicles is a major part of EU industrial & manufacturing strategy.
QE reduction set to start
One of the more interesting comments from Mario Draghi following his announcement that the Asset Purchase Scheme would start to be wound down was that he wouldn't hesitate to put it back in place if the economy so demanded. So, from being the economic equivalent of a "hail Mary pass", QE has become an acceptable policy tool to the most conservative CB in the G7.
Macron EU plans in tatters
French President Emmanuel Macron is suffering a crisis of confidence domestically, which is affecting his ability to push forward his reforms within the wider EU. His biggest ally, Angela Merkel, is also under pressure which means that the further federalisation of the bloc is on hold for some time, much to the relief of several Eastern European nations.
Bundesbank to express concerns over inflation
The Bundesbank will have far greater say in the inflation fighting weapons used by the ECB when they get "their man" into the President's office in November next year. For now, all they can do is publicise their predicted outcome of current policy, which is roundly ignored by the rest of the Eurozone.
01
Wednesday
Manufacturing PMI
Germany 10yr Bond Auction
02
Thursday
PPI m/m
Spanish Unemployment Change
03
Friday
Services PMI
Retail Sales
06
Monday
German Factory Orders m/m
Retail PMI
07
Tuesday
Germany Industrial Production
14
Tuesday
German Prelim GDP q/q
Flash GDP q/q
21
Tuesday
Ger ZEW Economic Sentiment
24
Friday
French Manufacturing PMI
French Services PMI
German Manufacturing PMI
German Services PMI
Eurozone Manufacturing PMI
Eurozone Services PMI
27
Monday
German Ifo Business Sentiment
28
Tuesday
M3 Money Supply
ECB Monetary Policy Meeting
31
Wednesday
German Retail Sales
CPI Estimates