Trade Faster & Easier with Our New Dashboard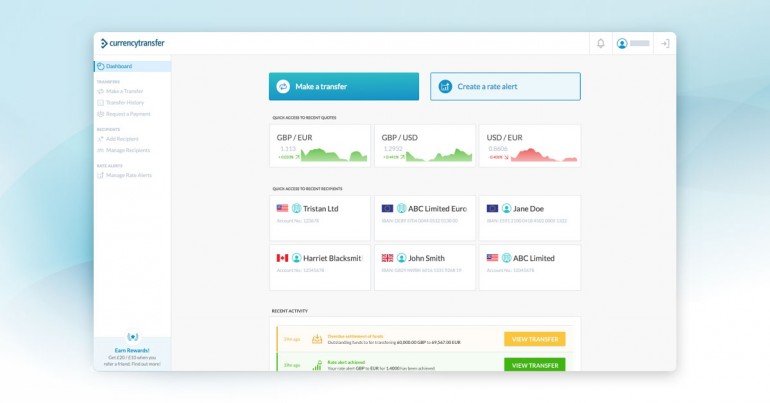 Dashboards: All the information you need to make a smarter, easier, and faster trade
Hollywood, specifically the science fiction genre, needs to be held accountable.
Minority Report made it seem that with a wave of your hand you can have all the information you need.
Lucy gave us a woman who could absorb information and become all knowing.
Her while creepy, introduced the computer as your best friend.
What Hollywood told us is that the information you need should be available at your fingertips, in a friendly usable manner. The reality has been different. While all of the information you want and you need is out there, it is spread across the vast expanse of the internet and gathering it is quite a time consuming process.
After conversations with many of you, we thought to ourselves: "Couldn't we build some sort of Wall-E type robot to gather up all of that wonderful, useful, and most importantly relevant data, pull it together in an organized and optimized manner, and make it available all in one place?"
Thus, we have built for you a new central location where you can find all of the necessary information to make smarter global payments. We call them "Dashboards", but you can call them whatever you'd like. We'd never presume to force you into using our naming protocols.

How do you get a dashboard?
All you have to do is login to your CurrencyTransfer account and you will see your dashboard. It will be the first page you see when you login to your account, so that you always have a better overview of what is happening in the market.
Are all dashboards the same?
Every single dashboard is personalized to the individual user. We only show you the information that is relevant to you, based on the way you use the CurrencyTransfer platform.
What types of information are going to be available on your dashboard?
There are currently four sections to the dashboard, although this will change as you interact with the dashboard and provide us with further feedback.

1. Action Buttons:
This is where you can make a transfer or set a rate alert. There are two buttons that are labeled "Make a Transfer" and "Set a Rate Alert." By clicking on a button you will be directed to the pages where would normally either get a quote or set a rate alert so that you know exactly when your desired rate hits.

2. Recent Quotes:
It's important to know how the currencies you transfer to and from are performing on a historical basis. The information provided in recent quotes will help ensure you have a fully optimized transfer by booking at the right time. If you haven't set a forward contract to offset your risk, you can now keep an eye on the market fluctuations, helping you to book in the following scenarios:

Currency pair is trending upward:
Trade while the rate is positive or see if it gets better

Currency pair is trending downward:
Better trade now before the rate gets worse or wait for it to get better
To fit these two scenarios, we allow you to
set a rate alert
or make a trade directly from the dashboard with that specific currency pair. Both of these options can be found by clicking on the currency pair.

3. Recent Recipients:
You've told us that you know who your recipients are. There isn't much change and for the most part you are sending to the same recipients over and over again. In this section of the dashboard we make it easier than ever to send to the recipients you've transferred money to recently.
By clicking on a recipient in this section you will more easily be able to send them funds instead of searching around in your recipients section at the end of a transfer.

4. Recent Activity/Notifications:
There is a lot of activity that can occur on the CurrencyTransfer platform. You should be able to not only know the status of all of your transfer activity, but also be able to take the appropriate actions with as few points of friction as possible. While you will always be able to see your notifications by clicking on the bell icon on the upper right hand of your screen, you can now take action from within the dashboard itself.

The Recent Activity section will make it easier for you to manage your transfer activity by highlighting the activities that require action on your behalf. You'll be reminded if you booked a trade but forgot to set the recipient. You'll be able to see if a rate alert has been achieved. Want to know if the funds reached the recipient yet? It's not only in the transfer history, but also in your recent activities section. There is a lot more available here but those are just a few of the highlights.
You asked us to give you all the information you could possibly need to make a transfer in one easy place. We embraced the challenge and have hopefully delivered it to you, in one neat and easy to use "dashboard."
We're looking forward to receiving all of the feedback you have on the new dashboards. Please do not hesitate to reach out to your relationship manager, leave a comment here, or email us at support@currencytransfer.com with any other information you would want available on the dashboards.
Frictionless Global Finance is a goal we are constantly trying to achieve here at CurrencyTransfer and this is just one more step towards achieving that vision.