FinTech Aviv Launched in Israel By CurrencyTransfer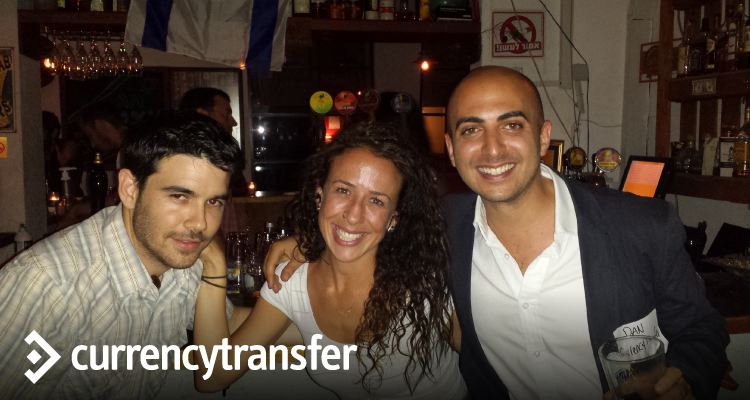 We're pleased to say that after Sunday May 11th 2014 we're certain the Israeli FinTech community is big, strong and eager to succeed.
Let's rewind to February when CurrencyTransfer.com launched at Finovate Europe. After such an exciting conference, with a ton of momentum, the team returned to our first international office in Tel Aviv ready to disrupt the antiquated world of international payments and embrace the community. Our goal was not only to surpass our targeted milestones but to get to know our fellow Tel Aviv fintech colleagues better. We'd seen at the conference what talent was out there, and we recognized that the synergy could be fantastic. Right here in Israel we have Bank Leumi, together with the startup investment fund Elevator, offering a new accelerator program to search out the next big thing in financial technology. All together this package is worth $200,000 for the startups. We also have Bank Hapoalim announcing NIS 80 million towards a new home for tech companies working on finance products. Not to mention Citi, one of the largest financial institutions in the world started a fintech accelerator recently in Israel. So, as you can see I'm not the only one who has recognized the talent pool we're swimming in! This brought us to think, how can we bring together everyone and talk shop but make it fun. This led us to planning the first ever FinTech Aviv meetup event!
Israeli FinTech is Booming
Planning can be strenuous when you don't have enough talent to pull from, but what about when you have too much! Here in the heart of startup nation I began to search for startups that could present at Fintech Aviv, our new meetup. What is now rather obvious is that there are so many incredible fintech startups, all at arms length. We reached out to inspiring entrepreneurs, businesses and accelerators who could advise us and point us in the right direction towards this talent.
Two great resources were Bank Leumi and Citi Bank, both of which run accelerators for fintech startups. We also tapped into our personal network from past participation in conferences. And lastly, we researched what new guys were out there, doing great innovative things.



Our next step was choosing a venue, which was the easiest decision. We decided that it would be best to gather everyone outside of the office, where people can network in a relaxed environment whilst enjoying a beer. Working at a startup is never-ending and at times tiring, so we wanted to make sure this gathering had a level of fun attached to it. We all agreed that our local company hangout, The Dancing Camel, was the best choice.
When the actual day came around we were fortunate to have 4 amazing startups confirmed, as well as a phenomenal keynote speaker, Yoni Asia from eToro. With our teams hard work, and the startups willingness we secured 3 generous sponsors: Yigal Arnon & Co., Bank Leumi & Zelig Associates. Without their generosity the meetup wouldn't have had the flair and prestige that added to it's success.
The FinTech Aviv Format
As an American, originally I had some concerns regarding everyone showing up on time, but to my delight everyone was not only on time, but early. It was a Fintech Aviv miracle! The room was bustling with over 100 innovators, investors, entrepreneurs, & experts and the energy was hard to deny. I was personally overjoyed and was running around trying to make sure everything was good to go for our 6:30 go time!
Our first speaker was Eylon Sorek from the startup CommuniFin. Eylon not only gave a great presentation on the value of a social network for capital markets, allowing people to share insight and boast themselves. But what was really great was he arrived early and made himself available to me to help out for which I'm very thankful. Next we had Hillel Raz from Bondit who grabbed the room's attention with his strong presence in his explanation of the top end platform for bond investments that is affordable and accessible, which we loved to hear. Following this we had Eli Bejerano from Bit2C bringing the popular subject of Bitcoin into the discussion. The new trading platform is an exciting development in this area. And last but not least we had Yigal Alkaslasy from eLoan talking about the relevance of loans and the everyday reasons that they will be needed for. The peer to peer lending platform works matching lenders and borrowers and has an impressive amount of lenders signed up to date. Overall, a very impressive group of startups that are sure to make waves within the fintech community internationally and go places.
Our Keynote Speaker, Yoni Assia

Next on the agenda was our keynote speaker Yoni Assia, from eToro. Yoni presented on how social plays into the future of fintech with a truly engaging power point. His style was laid back but precise which we fitted into the meetup just right.
What's next? CurrencyTransfer.com wants to jump on the momentum wave of Israeli FinTech and keep on riding. We're hoping that this is the beginning of a unified fintech community. We'd like to grow and prosper within our startup and be a friend to others. We're excited to plan the next FinTech Aviv and make it bigger and better.