May 2018 Monthly Currency Report for SME's
Energy, Experience, Expertise. Download Your Corporate Foreign Currency Exchange Report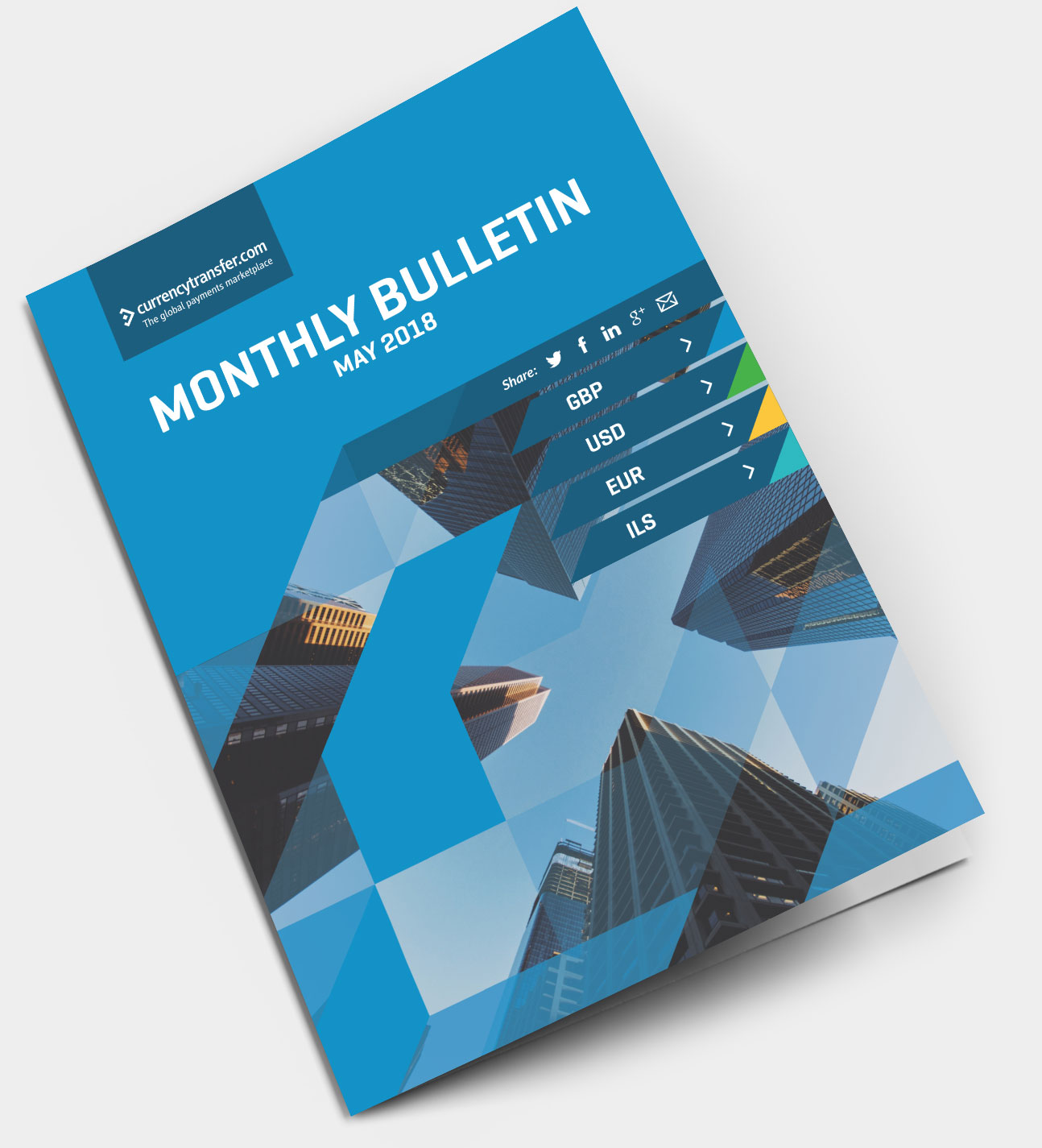 Download Your Free Currency Report - May 2018
Fill in your details below to receive your digital copy:
Protect Your Business with Monthly Currency Reports
Our free monthly currency exchange report aims to provide deep insights into the political and economic events worldwide that can cause currencies to change and how this can affect your FX business. Read more about the impact of exchange rates on international commerce.
Download our free monthly currency report and to keep up to date with key events throughout the month. The free currency reports analyse historical charts and provide the basis for discussion with stakeholders across your foreign exchange business. The monthly currency report provides a useful resource and meaningful insights for currency risk management policies.
For more helpful information for small and medium enterprises, check out our guide to trade finance for UK SMEs.
GBP – April in review
Carney questions rate hike
BoE Governor not convinced
Sentiment turns against Sterling
Inflation falls to 2.5%
Incomes outstrip prices
GBP – May what to watch
MPC still unsure
Hike seen at 50/50
Brexit concerns remain
Local elections to pressure Government
Pound likely to remain under pressure
USD – April in review
Trump foreign policy successes
Syria and North Korea raise risk appetite
Long-term yields reach 3%
Inflation remains benign
Dollar index above short-term resistance
USD – May what to watch
Wages growth to spur FOMC
Employment report to provide a clue on FOMC
N. Korea summit announcement expected
Mnuchin to visit China?
Short-term dollar sentiment to remain positive
EUR – April in review
Business confidence fading
ECB continues in dovish mood
Euro remains within range
Bad debt overhang remains
Eurozone still short of complete Monetary Union
EUR – May what to watch
Non-financial issues a concern
A campaign to replace Draghi set to begin
Refugee crisis to raise political temperature
EU reform plans to be revealed
Brexit trade concerns to spill over
Don't take our word for it.
see what others are saying
The best I've found
I just completed my first transaction (GBP to USD) with CurrencyTransfer and I will certainly be coming back whenever I have a currency need. Account setup was smooth — even with all the regulatory hoops. They were efficient, responsive, flexible, and the web-based trading interface gave me an excellent rate, close to spot. Once I'd settled the trade, the funds we're transferred to the destination bank almost immediately. What more could you want?
Highly customised support
Used Currencytransfer.com in connection with a house purchase in France. Involved a mixture of forward and spot transactions, and several adjustments to take into account changing deadlines. The team there provided a highly personalised service, pulling out all the stops to ensure the funds arrived on time after delays elsewhere. Would highly recommend for complex, high value transactions, and am planning to use them regularly from now on to top up my French bank account.
Excellent Service
I have made two transfers so far and all has gone smoothly. Good exchange rates when compared to other exchange sites, and notifications at every step to keep you informed. Queries, if you have them, are answered promptly via personal email. So far excellent service.