May 2018 Monthly Currency Report for SME's
Energy, Experience, Expertise. Download Your Corporate Foreign Currency Exchange Report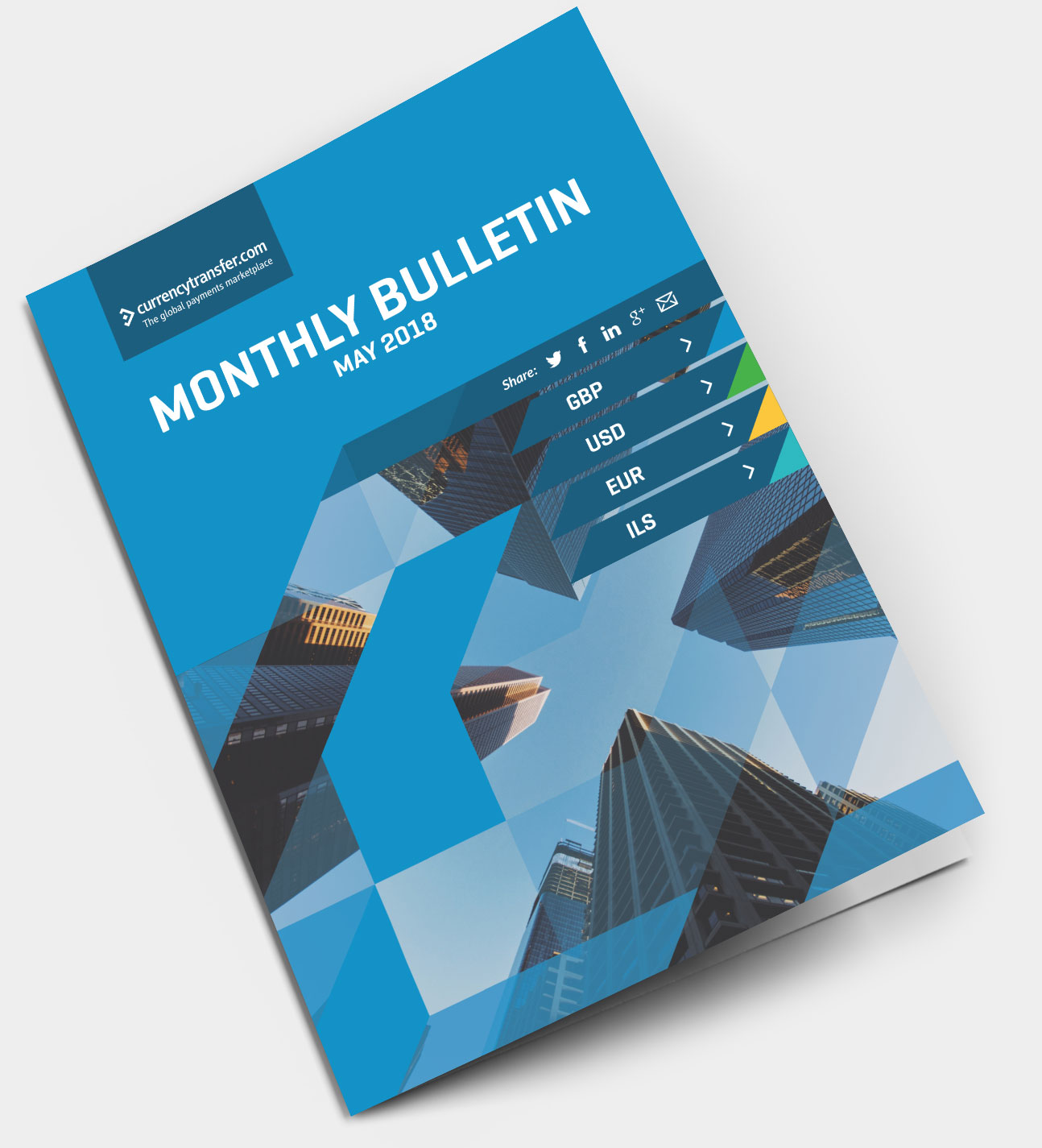 Read the latest currency report
With a roundup of the most impactful events of the previous month and a look at up and coming events may affect you in this coming month. Avoid being caught by surprise when the markets move.
Latest News >
Protect Your Business with Monthly Currency Reports
Our free monthly currency exchange report aims to provide deep insights into the political and economic events worldwide that can cause currencies to change and how this can affect your FX business. Read more about the impact of exchange rates on international commerce.
Download our free monthly currency report and to keep up to date with key events throughout the month. The free currency reports analyse historical charts and provide the basis for discussion with stakeholders across your foreign exchange business. The monthly currency report provides a useful resource and meaningful insights for currency risk management policies.
For more helpful information for small and medium enterprises, check out our guide to trade finance for UK SMEs.
GBP – April in review
Carney questions rate hike
BoE Governor not convinced
Sentiment turns against Sterling
Inflation falls to 2.5%
Incomes outstrip prices
GBP – May what to watch
MPC still unsure
Hike seen at 50/50
Brexit concerns remain
Local elections to pressure Government
Pound likely to remain under pressure
USD – April in review
Trump foreign policy successes
Syria and North Korea raise risk appetite
Long-term yields reach 3%
Inflation remains benign
Dollar index above short-term resistance
USD – May what to watch
Wages growth to spur FOMC
Employment report to provide a clue on FOMC
N. Korea summit announcement expected
Mnuchin to visit China?
Short-term dollar sentiment to remain positive
EUR – April in review
Business confidence fading
ECB continues in dovish mood
Euro remains within range
Bad debt overhang remains
Eurozone still short of complete Monetary Union
EUR – May what to watch
Non-financial issues a concern
A campaign to replace Draghi set to begin
Refugee crisis to raise political temperature
EU reform plans to be revealed
Brexit trade concerns to spill over
Don't take our word for it.
see what others are saying
Great experience!
Great experience! Noam was very thorough and communicative. He was helpful throughout the process, and I felt very comfortable turning to him for any questions. I would definitely recommend to my friends, and continue using for future transfers!
I highly recommend currency transfer
I highly recommend currency transfer. Having used their services for over seven years.

I am particularly impressed by their personal fast and safe service. Funds usually reach my account within 48 hours.

A personal thankyou to Nathan who is always available to answer any technical questions.

I highly recommend their services.
OUTSTANDING Service, super speed. 12/10
OUTSTANDING! Amazing service and super speed, smooth and efficient. I have a direct link to my account officer if I need. And best of all I am saving $00s every time compared to the daylight robbery rates the banks were giving me previously. Only a simpleton would use the main banks for any currency transfers. 12/10.