Living the good life: where Brits are buying a property in Europe after Brexit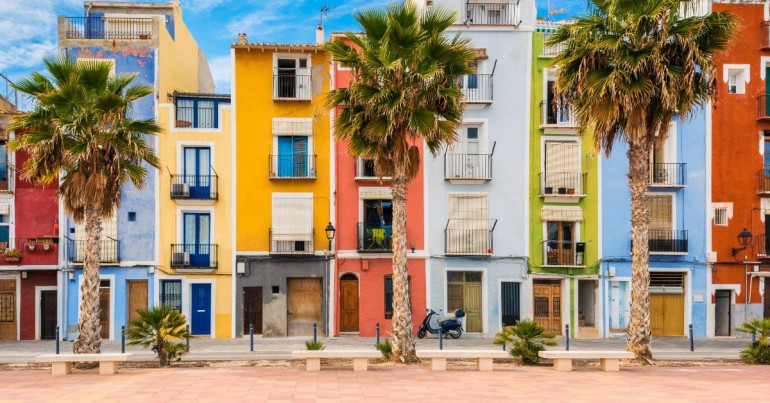 As 2023 dawns on a grey January here in the UK, we won't blame you if you're dreaming of a life in the sun – perhaps a beachside villa or a rural home with plenty of space to breathe. You aren't alone: ONS data shows 90,000 Brits started a new adventure overseas last year after buying a property in Europe after Brexit!
Brexit certainly hasn't stopped them, so could you follow in their footsteps? Come along as we discover the top places you can buy a property in Europe after Brexit, plus how you can move full-time.
How can I buy a home in Europe after Brexit?
First, a quick recap. As we've covered in our detailed article, the right to buy or own property is determined by national governments and not the EU. All member states currently allow non-EU citizens to buy property – just look at the many Americans who do just that every year.
What has changed is how much time you can spend at that property.
British citizens used to have year-round visa-free access; while that's no longer the case, the good news is there are still plenty of doors open.
For holiday home owners, you can use a simple tourist visa. British citizens can spend up to 90 days within any 180-day period without any prior paperwork. I have done precisely that: just get a stamp in your passport when you enter and exit and you're good to go.
If you need to stay longer, then you'll need to apply for a visa and there are plenty of options available by country, as we'll see in our top destinations – so let's explore.

Malta: the sun-kissed island welcoming retirees with open arms
The tiny island nation of Malta punches above its weight in beauty and lifestyle. From the Baroque elegance of historic Valletta, "built by gentlemen for gentlemen", to the happening nightlife of Sliema or the quiet countryside of Gozo, it feels like the Mediterranean in microcosm. And did we mention that it basks in a glorious average of 3,000 hours of sunshine a year?
Property prices here are reasonable, with one-bedroom apartments starting at €150,000 and key-ready houses at €300,000.
How can I buy property and move to Malta?
Foreigners can easily buy here; simply make sure you obtain the formality of an Acquisition of Immovable Property permit. Malta has special pathways for retirees to become residents through the Malta Retirement Programme. As long as at least 75% of your income is a pension and you don't plan to work in the country, you're likely to be eligible.

Portugal: coast and country with a buzzing expat scene
Portugal's trendy Algarve continues to lure British buyers with its winning combination of small-town charm and bustling social life. Hotspots like Vilamoura offer world-class golf, exceptional dining and chic bars, all just a short drive from traditional fishing ports like Carvoeiro and Burgau. Head inland to discover a world of historic towns and rolling countryside. Towns such as Silves and Loulé are strongholds of Portuguese culture, from the beautiful azulejos adorning the buildings to the slow pace of life and unbeatable hospitality.
Property prices in the Algarve are higher than many other European expat areas. Homes including apartments cost on average €287,482 according to data from INE and Idealista.
How can I buy property and move to Portugal?
Great news for expats: there are no restrictions on buying a home here. The D7 passive income/retirement visa lets you gain residency in Portugal as long as you are receiving a passive income (such as a pension) from overseas.

Spain: sun, sea and culture for all budgets
Over 300,000 Brits live in Spain and it's easy to see why. Costa Blanca hotspots like the Mar Menor are perfect for year-round sun with plenty of bars, restaurants and beaches in close proximity. Meanwhile, the pueblos blancos of interior Andalusia provide a more traditional lifestyle, with gorgeous cortijos and landed fincas where you can live the rural dream far from the crowds.
The property market varies widely, meaning there's something for everyone, from inland village houses for as little as €75,000 to swish modern villas right on the coast for €500,000 or more.
How can I buy property and move to Spain?
Again, Spain has no restrictions on foreigners buying. Spain's NLV visa means you can live in the country with financial means equivalent to 400% of the "Public Multiple Effects Indicator", meaning you'd need roughly €28,800 in 2023.

France: an unbeatable lifestyle just a short hop from the UK
One of the original expat destinations ever since A Year in Provence hit our shelves in the 80s, rural France charms Brits with its gorgeous towns and villages, fabulous food and wine and sometimes surprisingly affordable property. While headline-stealers along the Côte d'Azur are anything but cheap and prices have risen 9% nationally outside Paris, head west to the Charente and you can pick yourself up a detached home with a pool for as low as €160,000.
How can I buy property and move to France?
Anyone can buy property, but moving requires some paperwork. You can apply for a long-stay visa, which will likely result in a visa with a requirement to solicit a residence card within two months of arrival. You can then normally renew this upon its expiration.

Italy: live la dolce vita for less than you think
Italy is awash with possibilities for expats, from an elegant Tuscan villa or farmhouse through to some truly quirky properties: head down to the Apulian city of Alberobello to find yourself a unique trullo. These traditional whitewashed roundhouses are earning new leases of life as holiday homes, boutiques, artisan workshops and more.
If Italy is top of your list to look at buying property in Europe after Brexit, the good news is bargains can still be found. While the average price for a 100m2 villa in Tuscany is €230,000, looking into the region's central villages, such as in Fivizzano, you can find homes for as low as €95,000.
How can I buy property and move to Italy?
Italy's elective residency visa allows you to receive foreign income while living in Italy for renewable periods of a year. After five years you can obtain a residency permit and citizenship after ten.
Your journey to buying property in Europe after Brexit
With inflation rising across the continent but property prices still affordable, 2023 could be the perfect year to make your dream come true. As we've covered, you can still buy property in Europe after Brexit and obtain visas with just a bit of paperwork. Follow our overseas property updates for all the latest insight as you embark on your journey.
Alexander Fordham
Alexander is a writer specialising in foreign exchange and overseas property, with seven years' experience helping people to purchase abroad and send money safely, including hosting seminars on the topics around the UK. You can find him out hiking, travelling and working from Spain in the sunnier months.